ICESCO and Azercosmos Sign a Memorandum of Understanding to Jointly Support Innovation in Space Sciences and Enhance the Utilization of its Applications.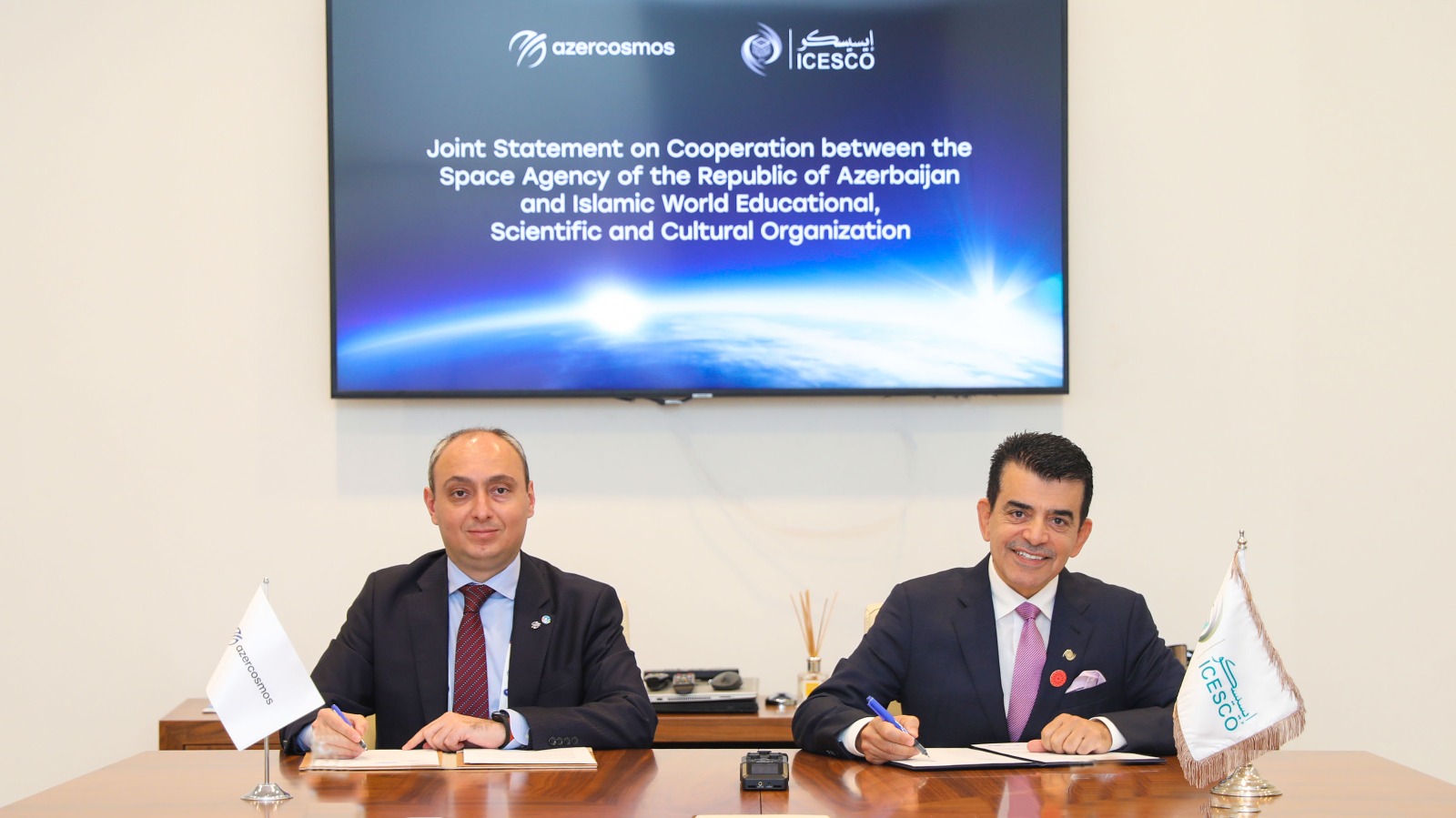 3 October 2023
On Tuesday, 3 October 2023, the Islamic World Educational, Scientific, and Cultural Organization (ICESCO) and Azercosmos Space Agency of the Republic of Azerbaijan officially signed a Memorandum of Understanding. This MoU is designed to establish collaborative efforts in exploring and utilizing satellite technology in the Republic of Azerbaijan and among ICESCO Member States. It also seeks to strengthen partnerships with scientific and research institutions, universities, experts, and researchers in space sciences to foster innovation, promote scientific exchange, and disseminate knowledge in this field.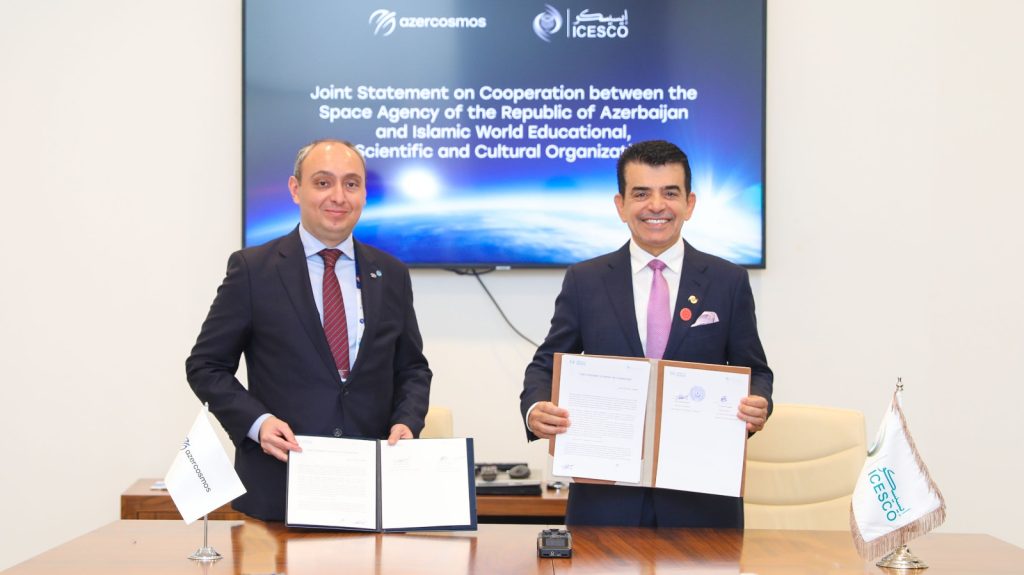 The MoU was signed by Dr. Salim M. AlMalik, ICESCO Director-General, and Mr. Samaddin Asadov, Chairman of Azercosmos Board of, at the Baku Convention Center. The event was attended by a delegation from ICESCO, including several department heads, directors, and experts from the Organization. This event coincided with their participation in the 74th International Astronautical Congress held in Baku from 2 to 6 October 2023.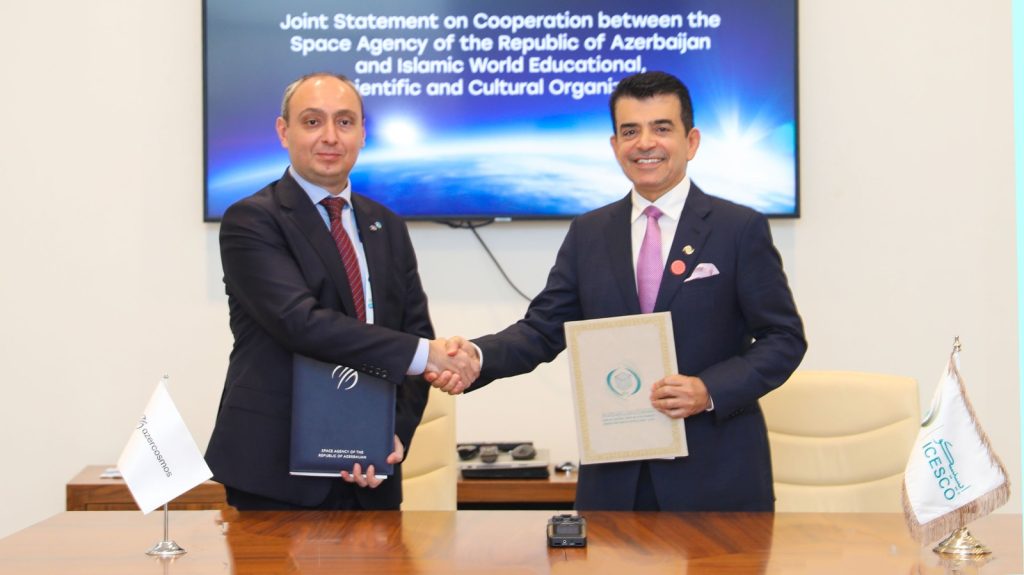 In his statement, Dr. Salim AlMalik underscored the importance of this MoU in promoting partnerships between ICESCO and Azercosmos. He placed significant emphasis on the collaboration between both parties in raising awareness about the future of space sciences and disseminating knowledge in this field across the Islamic World. Dr. AlMalik also affirmed ICESCO's commitment to nurturing the potential of young individuals, exemplified by the attendance of over 500 participants from Islamic countries at the International Astronautical Congress hosted in Baku. This event served as a platform for exploring the latest advancements in space applications and gaining insights into the remarkable progress happening in this field.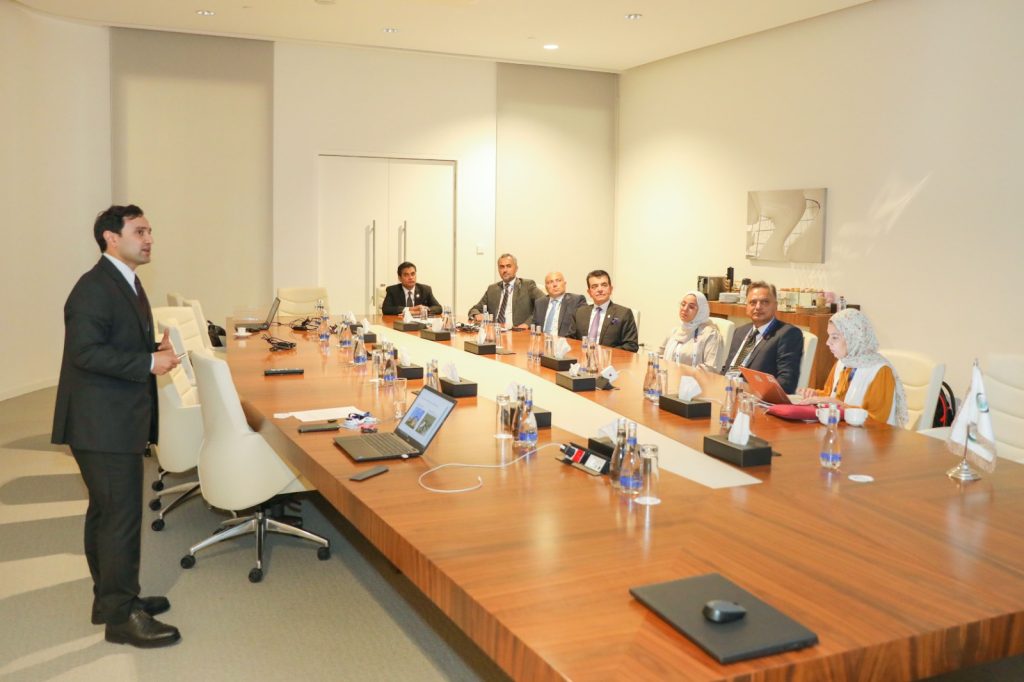 Mr. Asadov, on his part, commended ICESCO's efforts within its areas of competence, highlighting the strategic partnership and promising prospects that the MoU would offer in bolstering knowledge-sharing in the field of space sciences, both in Azerbaijan and among the Member States of the Organization.
The terms of the MoU outline the collaborative efforts between ICESCO and the Azercosmos in utilizing space technology to advance educational systems, foster scientific development, and promote innovation.
Additionally, it involves the exchange of ideas on how to leverage the capabilities offered by space technologies and their modern applications. This collaboration extends to integrating advanced satellite technologies into various fields such as tourism, agriculture, energy resources, oil and gas, innovative mapping, environmental protection, and infrastructure development.
Prior to the signing of the Memorandum, a meeting took place between both parties, during which a presentation on Azercosmos was delivered, detailed discussions on the signing process and the implementation mechanisms of the Memorandum were held, and the need to invest in similar constructive partnerships in Islamic countries to advance the space sciences industry and optimize the utilization of its technologies was tackled.