Signing of Agreement to Implement Girl Dropouts' School Integration Project in Yemen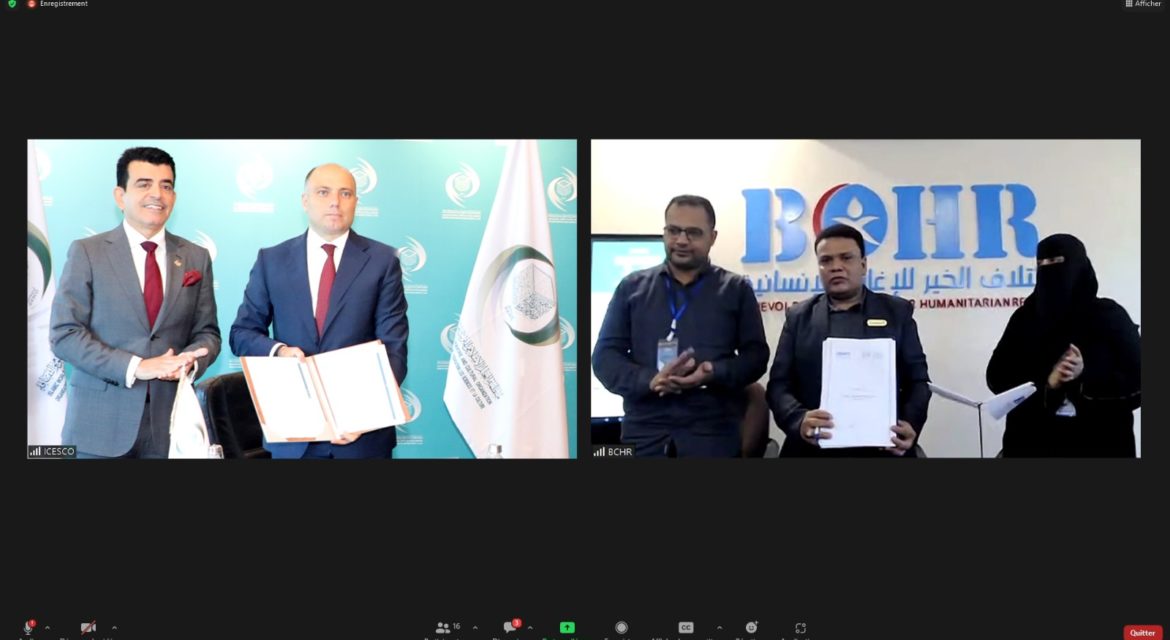 26 May 2023
The Islamic World Educational, Scientific and Cultural Organization (ICESCO) and the Benevolence Coalition for Humanitarian Relief (BCHR) signed an agreement to implement the project of girl dropouts' school integration in Yemen. The project is part of the cooperation framework between ICESCO and King Salman Humanitarian and Relief Centre (KSRelief) to provide educational support and the necessary teaching tools to give girl dropouts in Yemen a second chance to continue their education.
Dr. Salim M. AlMalik, ICESCO Director-General, attended the signing ceremony held in person and via videoconference, on Thursday, May 25, 2023. The agreement was signed on behalf of ICESCO by Mr. Anar Karimov, Head of the Partnerships and International Cooperation Sector at the Organization, and on behalf of BCHR by Eng. Fahmi bin Mansour, Executive Director of the Coalition.
According to the agreement, the Coalition will implement the project with funding from KSRelief, while ICESCO will oversee the management of the project and follow up on all its implementation stages. The Organization will also provide KSRelief with periodic reports on the implementation progress of the project, in coordination with BCHR.
During the signing ceremony, Dr. Al-Malik expressed his thanks and appreciation to KSRelief for its generous donation to finance this key project, and to the Yemeni authorities for their assistance and facilitations, notably the Ministry of Education and the Yemeni National Commission for Education, Culture and Science, commending the efforts of the Coalition and its commitment to implementing the project in the best conditions.
For his part, Eng. Bin Mansour expressed the Coalition's keenness to cooperate with ICESCO in the implementation of this major project, through which various parties aim to reduce the rates of school dropout among girls in the Republic of Yemen and build their capacities to assume their roles in achieving sustainable development.
According to the terms of the agreement, the project will equip 21 schools to educate girls in the beneficiary areas, provide school bags and supplies for 19,000 girls and organize training programs to build the capacities of 350 workers in the field of girls' education. The agreement also provides for equipping 100 alternative classrooms to accommodate girl dropouts and in displacement camps, providing professional support to their parents, facilitating the procedures for displaced girls' school admission, and producing awareness programs that encourage girls' education.