Agreement Signing to Create ICESCO Chair at NUST in Pakistan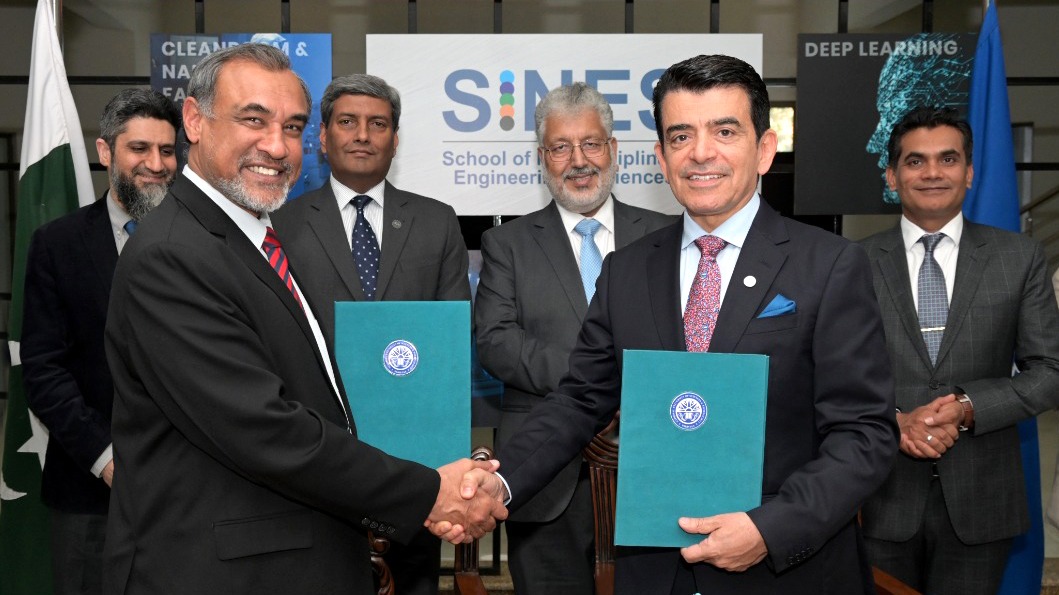 23 March 2023
The Islamic World Educational, Scientific and Cultural Organization (ICESCO) and the National University of Science and Technology (NUST) of the Islamic Republic of Pakistan signed an agreement to create an ICESCO Chair in the field of data science and business analytics at the University. The agreement is part of efforts to promote and support the partnership between the two parties to contribute to the development of programs and projects in the fields of data analysis, remote sensing and modern sciences, and facilitate cooperation and experience exchange among researchers and university professors in universities and higher education institutions in the ICESCO Member States.
The agreement was signed on Wednesday, March 22, 2023, at the University's headquarters in Islamabad, Pakistan, by Dr. Salim M. AlMalik, ICESCO Director-General, and Mr. Javed Mahmood Bukhari, NUST Rector. The signing ceremony was attended by the ICESCO delegation accompanying the Director-General, and several deans and faculty members from the University.
The agreement provides for the promotion of scientific research to find practical solutions to challenges that face local business projects through capitalizing on data science and marketing technology and developing cooperation relations through partnering with specialized academics, government sectors and industrial entrepreneurs. It also aims to build the capacities of professionals working in the fields of AI and data science through organizing training sessions and applied work in the field, and mobilizing the necessary resources to develop scientific research and practical applications in business and data science.
In his address at the signing ceremony, Dr. AlMalik stressed that ICESCO's new vision seeks to keep pace with the latest developments by establishing and supporting specialized scientific university chairs, especially in the fields of science, remote sensing, information systems and artificial intelligence, stressing the need for universities to keep up with developments in the labor market and tomorrow's professions, and invest in the fields of knowledge to serve their Member States.
Afterward, the University Rector accompanied Dr. AlMalik on a tour of the University's science and innovation incubators, which receives support from international partners, who sponsor entrepreneurs' and innovators' projects in the field of science and entrepreneurship.
At the end of the tour, the Director-General commended the work and efforts of the University, which is one of the top-ranked Pakistani universities, and praised the role of its research and innovation centers in developing the research system in Pakistan.