Fifth Forum of Vice-Chancellors of the Islamic World Universities Kicks off in Pakistan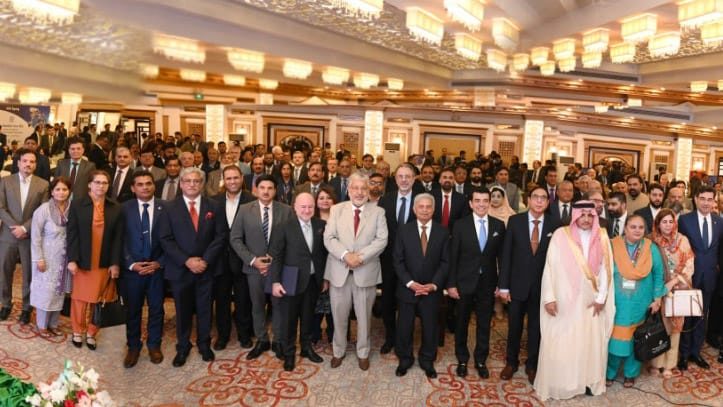 20 March 2023
ICESCO Director-General: We support universities to become centers of innovation and production of outstanding workforce
The Fifth Forum of the Vice-Chancellors of the Islamic World Universities, organized by the Higher Education Commission of the Islamic Republic of Pakistan, in partnership with the Islamic World Educational, Scientific and Cultural Organization (ICESCO), COMSATS University, and the British Council in Pakistan kicked off, on Sunday (March 19, 2023), under the theme "Towards Disruptive Technology in a Globalized World."
In his address at the opening session, which witnessed a large presence of officials and university vice-chancellors from inside and outside the Islamic world, Dr. Salim M. AlMalik, ICESCO Director-General, stressed the importance of the forum in light of the rapid change and transformations imposed by the technological boom and the continuous flow of data and the use of modern technologies, which necessitate the promotion of innovation and creativity to keep pace with these transformations.
Dr. AlMalik pointed out that ICESCO believes in the pivotal role that modern-day universities constitute hubs of change and innovation and centers for forming outstanding manpower in the field of technology through the Organization's commitment to cooperating with universities to achieve a prosperous society for future generations.
Furthermore, ICESCO Director-General highlighted the power of youth in restoring the glorious past and scientific prosperity of the Islamic civilization through the universities and new learning patterns using artificial intelligence and open education, noting that the initiatives and programs of ICESCO and the Federation of the Universities of the Islamic World (FUIW) aim at promoting technological progress in the Member States.
Dr. Mukhtar Ahmed, Chairman of the Pakistani Higher Education Commission, pointed out that strengthening cooperation and partnership between Islamic world universities provides great opportunities to benefit from modern and emerging technologies. Dr. Rana Tanveer Hussain, Minister of Education and Vocational Training in Pakistan, stressed the need to improve girls' education and develop climate change research centers in the Islamic world.
Dr. Muhammad Tabassum Afzal, Chancellor of COMSATS University, Islamabad, noted the importance of strengthening the scientific research budget, cooperation between the Islamic world universities, and support by governments and organizations for multilateral cooperation. For his part, the representative of the British Council in Pakistan reviewed the projects and programs implemented by the Council in the fields of education and scientific research in the country.
At the end of the opening session, His Excellency Dr. Arif Rahman Alvi, President of the Islamic Republic of Pakistan, urged, in a video speech, the Islamic world universities to invest in modern and advanced technologies, as relevant to the future of education in Muslim countries, most notably the use of modern technologies in universities to keep up with the technical revolution and the subsequent development of curricula.
During the forum, Dr. AlMalik handed over the implementation agreement of ICESCO's Programme for the Improvement of Water and Sanitation Services in several rural schools in Pakistan to the Minister of Higher Education and Vocational Training, in the presence of Mr. Syed Junaid Akhlaq, Secretary General of the Pakistan National Commission for UNESCO and ICESCO.