ICESCO Director-General receives WHO Representative in Morocco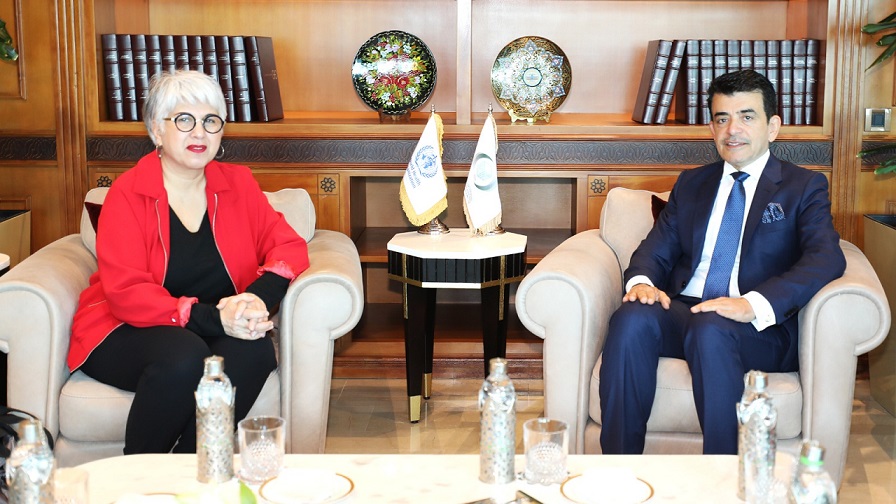 22 February 2023
Dr. Salim M. AlMalik, Director-General of the Islamic World Educational, Scientific and Cultural Organization (ICESCO), received Dr. Maryam Bigdeli, Representative of the World Health Organization (WHO) in the Kingdom of Morocco, and together explored prospects of cooperation between the two organizations.
During the meeting, held today, Wednesday, February 22; 2023, at ICESCO Headquarters, Dr. AlMalik highlighted ICESCO's efforts to provide health assistance to its Member States, particularly during the COVID-19 pandemic. He further explained that these efforts included the implementation of several programs and projects and the organization of medical, social and educational caravans to promote public and mental health, noting that ICESCO works on designing programs and activities that focus on achieving equality in health services by capitalizing on modern technology.
He added that ICESCO works on launching the program to create healthcare federations, scientific networks and social outreach groups, stating that the Organization has recently launched ICESCO's Health Consortium, which aims to foster cooperation between the Organization and its Member States in the implementation of programs and projects geared towards developing the health systems by capitalizing on modern technology and innovation and building the capacities of health workers.
For her part, Dr. Bigdeli commended ICESCO's efforts in the health sector in service of its Member States, reaffirming the WHO's keenness to promote cooperation with active international organizations that have a direct impact on societies such as ICESCO in order to develop joint health programs to promote health services.
The meeting also discussed project and program proposals for cooperation between the two organizations in areas of common interest. The two parties agreed to pick up the pace of cooperation over the upcoming period to achieve common goals and initiate positive healthcare and human change in the Islamic world.
The meeting was attended by Ms. Amira El-Fadil, Head of the Sector of Partnerships and International Cooperation and Ms. Ramata Almamy Mbaye, Head of the Sector of Human and Social Sciences.