ICESCO Director-General, President of Ain Shams University and UN Under-Secretary-General moderate a discussion with youth at COP27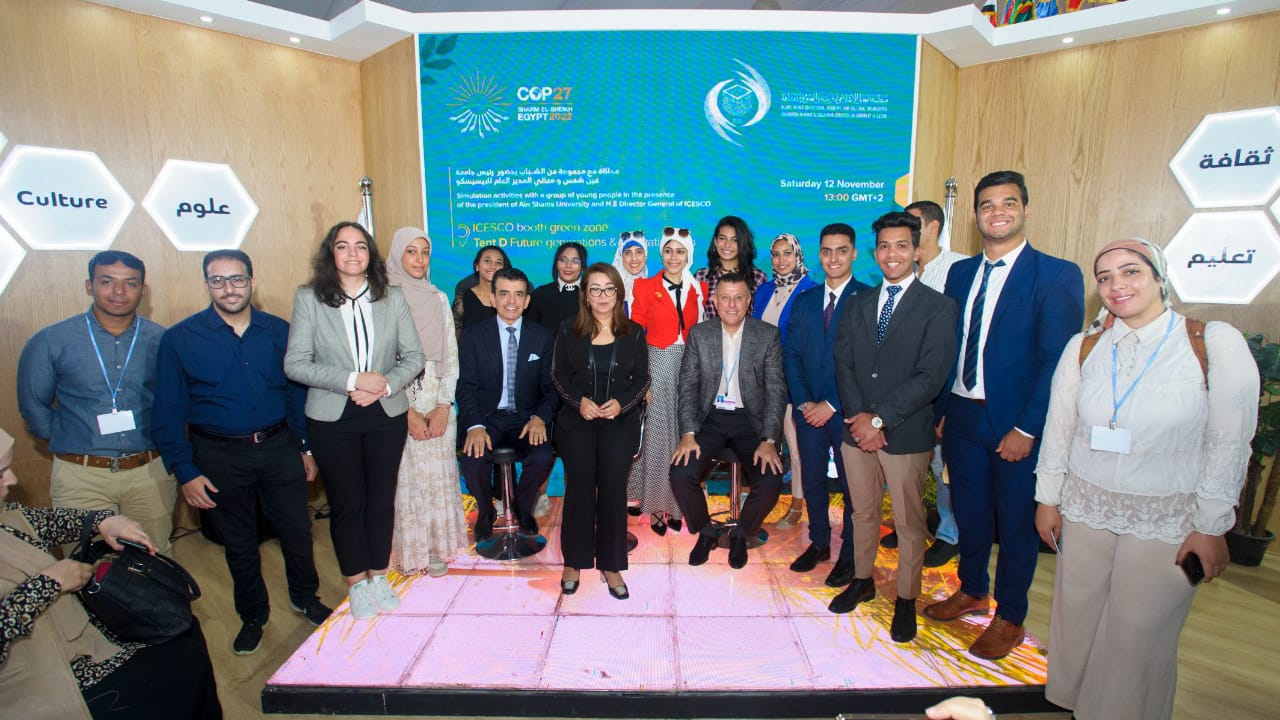 13 November 2022
In the presence of Dr. Salim M. AlMalik, Director-General of the Islamic World Educational, Scientific and Cultural Organization (ICESCO), Dr. Mahmoud Al-Matini, President of Ain Shams University in Egypt, and Dr. Ghada Wali, Under-Secretary-General of the United Nations, Executive Director of the United Nations Office on Drugs and Crime (UNODC) and Director of the United Nations Office at Vienna (UNOV), a simulation with several young people was held at ICESCO's pavilion at COP27 in Sharm el-Sheikh, to raise awareness of the importance of involving them in the efforts aimed at preserving and protecting heritage from the impact of climate change.
During the activity, which was held on Saturday, 12 November 2022, Dr. Al-Malik highlighted ICESCO, as a beacon of civilizational and scientific outreach, which aims to provide 3D imaging of heritage sites on its heritage lists in the Islamic world, using virtual reality technology, to enable youth in the Islamic world to explore Member States' culture and history, enhancing pride in their cultural heritage.
For his part, Dr. Al-Matini stressed the need to develop young people's skills through strengthening cooperation based on concrete initiatives and programs between a number of organizations, universities and international institutions, including ICESCO, to involve them in the efforts of preserving heritage, protecting the environment, and technological, technical and cultural innovation.
Dr. Ghada Wali, on her part, talked about the importance of equal opportunities between young men and women in the fields of education, science and culture, to help them achieve their ambitions and strengthen their creative abilities.
During the simulation activity, many young people participated in the discussion, shared their ideas and asked many questions about the dangers of climate change on heritage, which were answered by Dr. AlMalik, Dr. Al-Matini, Dr. Ghada Wali, ICESCO experts and professors from Ain Shams University.