ICESCO and Kazakhstan Agree to Enhance Cooperation in Fields of Culture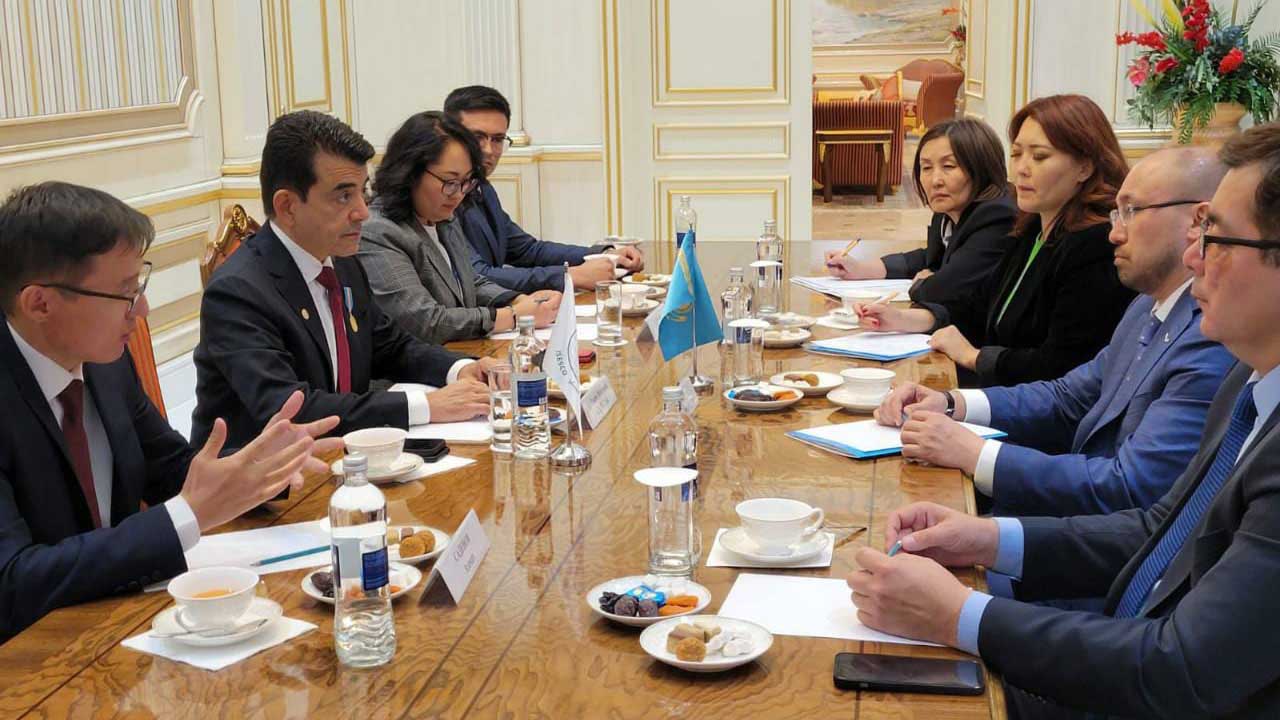 16 September 2022
Dr. Salim M. AlMalik, Director-General (DG) of the Islamic World Educational, Scientific and Cultural Organization (ICESCO), met with Mr. Dauren Abayev, Minister of Culture and Sports of the Republic of Kazakhstan, to discuss ways of improving cooperation between ICESCO and Kazakhstan in the fields of culture.
During the meeting, held on Thursday (September 15, 2022) at the Ministry's headquarters, in Nur-Sultan, in the presence of the Deputy Minister and the Director of International Relations as well as a number of the ministry officials, Dr. Al-Malik reviewed ICESCO's vision and strategic orientations, which contribute to laying the foundations for cultural policies in Muslim countries and ensuring the protection and preservation of heritage, highlighting the Organization's key initiatives and programmes implemented to valorize the cultural heritage of Muslim countries, promote digital culture, spread awareness about the importance of sport as a driving force for building peace and dialogue between societies, uniting peoples and breaking down barriers of hatred, as well as developing the educational process and maintaining students' health.
For his part, the Kazakh Minister of Culture and Sports commended ICESCO's remarkable roles in its areas of competence and the distinguished relations between the Organization and Kazakhstan, stressing his willingness to continue and develop this partnership.
Moreover, the meeting tackled the proposal of organizing cultural weeks by the competent parties in Kazakhstan, Rabat, Cairo, and Yaounde, which are celebrated as Culture Capitals in the Islamic World for 2022 with a view to introducing Kazakh culture and promoting cultural exchange.
The two parties also agreed to strengthen cooperation through many programmes and activities, including Kazakhstan's submission of files of heritage sites and cultural elements for their inscription on ICESCO's Islamic World Heritage List, co-organize a training session for young people on the restoration and preservation of cultural property, and an international symposium on Al-Farabi's contributions to human civilization, and take the necessary measures to sign a memorandum of understanding on the formula of cooperation, at the Organization's headquarters.