ICESCO Holds an International Symposium to Highlight the Role of Museums in Safeguarding Heritage and Achieving Sustainable Development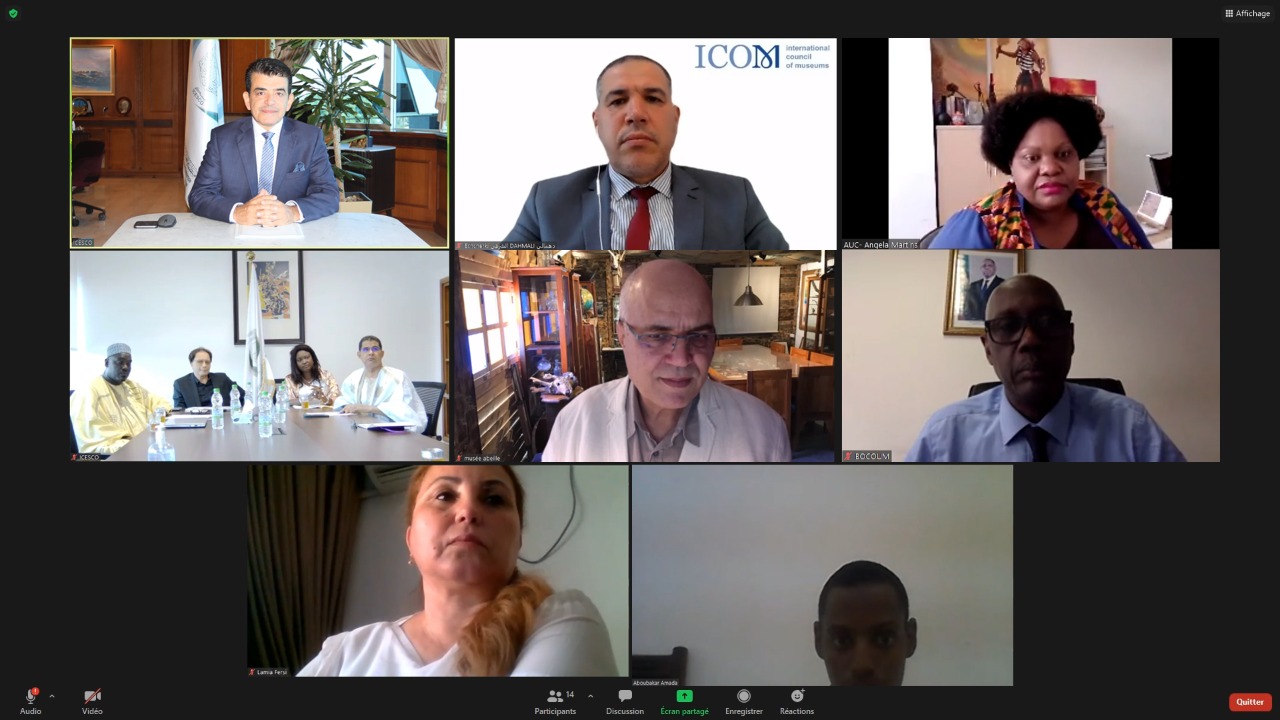 17 May 2022
The Islamic World Educational, Scientific and Cultural Organization (ICESCO) held an International Symposium to celebrate International Museum Day, under the theme: "The Power of Museums," with the participation of several experts and specialists in the field to explore the role of museums in achieving sustainable development, safeguarding heritage and cultural identity, and supporting its mechanisms to recover from the negative fallout of the Covid-19 pandemic.
Dr. Salim M. AlMalik, ICESCO Director-General (DG), started the Symposium, which was held via videoconference, on Monday, May 16, 2022, by highlighting the importance of museums in promoting and developing societies and cultures. He stated that museums were the institutions most hit by the Covid-19 pandemic. He added that it is necessary to provide support to museums given their role in displaying our tangible and intangible cultural heritage and supporting socio-economic development.
He pointed out that ICESCO places museums among its priorities, due to the role they play in changing our way of thinking in educational, scientific and cultural fields, and that ICESCO will create a digital platform that brings together 2,700 museums around the Islamic world to exchange knowledge and experiences. This network will oversee the development of training programs and capacity-building workshops in this field.
He also revealed that ICESCO will issue a guide of museums in the Islamic world; its first volume will deal with museums in Africa, to build bridges between museums in the Islamic world and promoting cultural diversity.
In his speech, Dr. Mohamed Zinelabidine, Head of ICESCO Culture and Communication Sector, stressed the Organization's relentless endeavor in accompanying the Member States in achieving the governance of heritage development policies as they represent a strategic revolution reflecting memory, identity and the diverse heritage specificities of the Islamic world, indicating that these executive policies must support development and wealth, through an optimal exploitation of monuments, museums, sites and cultural elements. These qualitative and quantitative goals can only be achieved if the Member States, in cooperation with ICESCO, enable the heritage sector to have sufficient budgets and human and technical resources capable of improving museums' performance.
The Symposium sessions saw the participation of several experts from different countries of the Islamic world who presented, through their interventions, an overview of the history of the International Museum Day, celebrated worldwide on May 18. They also reviewed museum experiences as a space that combines various fields and performs a noble task of displaying and safeguarding heritage and the importance of museums in peace-building and strengthening human ties and relations. The participants delivered presentations on the role of crisis management to achieve the sustainability of museum action and the power of museums in achieving sustainable development.