ICESCO, FM6E and COMSATS Reflect on COP 26's Key Outcomes in a Symposium in Rabat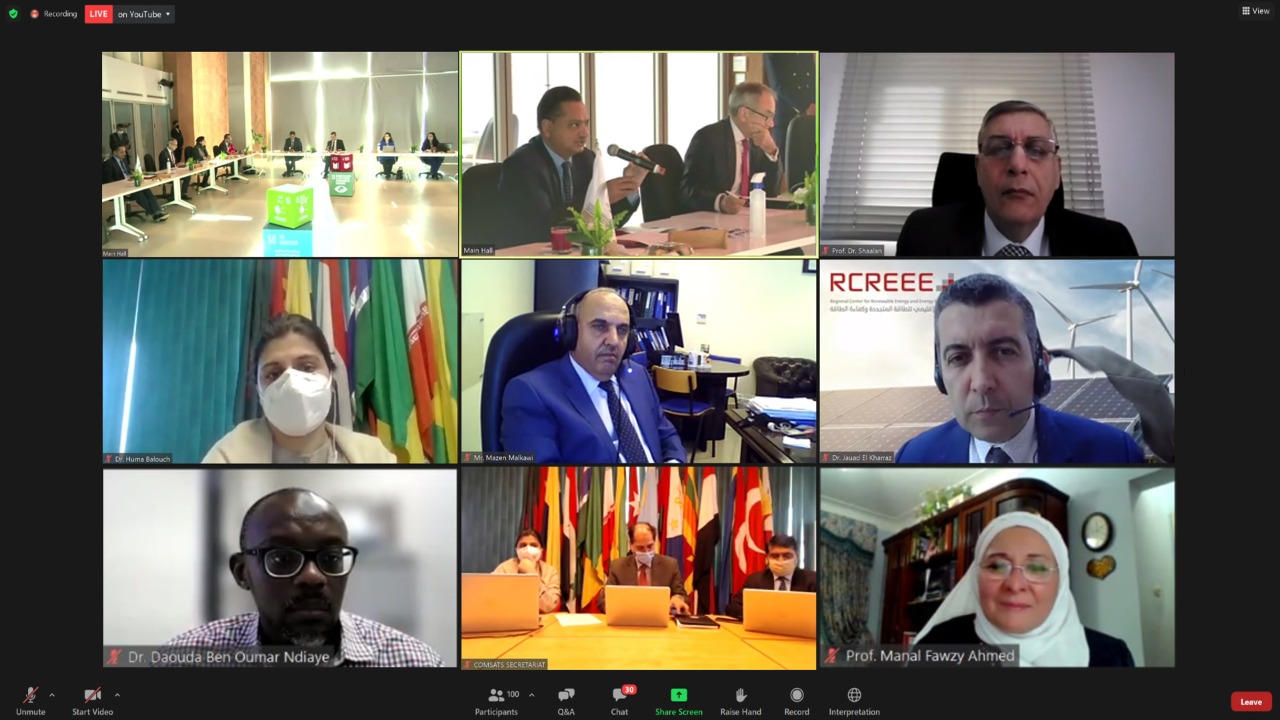 16 February 2022
The Islamic World Educational, Scientific and Cultural Organization (ICESCO), the Mohammed VI Foundation for Environmental Protection (FM6E), and the Commission on Science and Technology for Sustainable Development in the South (COMSATS) organized a symposium aimed at reflecting on the outcomes of the twenty-sixth UN Climate Change Conference and the climate pledges of the Islamic world and African continent. Participants in the symposium unanimously agreed that concerted efforts are needed to mitigate carbon and greenhouse gas emissions, rehabilitate ecosystems, enhance regional and international cooperation, strengthen solidarity with the least developed countries and invest in scientific research and innovation.
The symposium took place on Tuesday, February 15, 2022, under the theme "Adaptation and Mitigation: Joining Efforts to Activate Climate Action," at the headquarters of the Hassan II International Environmental Training Center in Rabat, and via videoconference. The symposium was organized in cooperation with UNESCO, the Climate Change Competence Center, the Regional Center for Renewable Energy and Energy Efficiency, and the United Cities and Local Governments of Africa.
Participants in the symposium discussed the outcomes of the twenty-sixth UN Climate Change Conference held in Glasgow and the measures that should be undertaken to address the impacts of climate change through adaptation, mitigation and financing. They also stressed that the Islamic world needs to contribute to environmental conservation through the development and implementation of initiatives and programs aimed at managing the effects of climate change.
In his address, Dr. Raheel Qamar, Head of ICESCO's Science and Technology Sector, emphasized that the joint efforts of international and regional organizations, institutions and centers interested in environmental conservation, are needed to sustain life on earth and curb climate change.
At the outset of the symposium, the participants agreed to issue several recommendations, including the need to mitigate greenhouse gas emissions, achieve carbon neutrality by 2050; conserve biodiversity and promote "climate justice" to stimulate sustainable development in a post-COVID-19 world. These recommendations also include calling on developed countries to support various African initiatives and programs in the area of renewable energies, increase investment in scientific research and technological innovation, particularly in the transfer of technologies; training young people and women on environmental safety and environmental human rights, and harnessing artificial intelligence to facilitate and accelerate climate action globally.