ICESCO and Qatar Charity Agree to Enhance Cooperation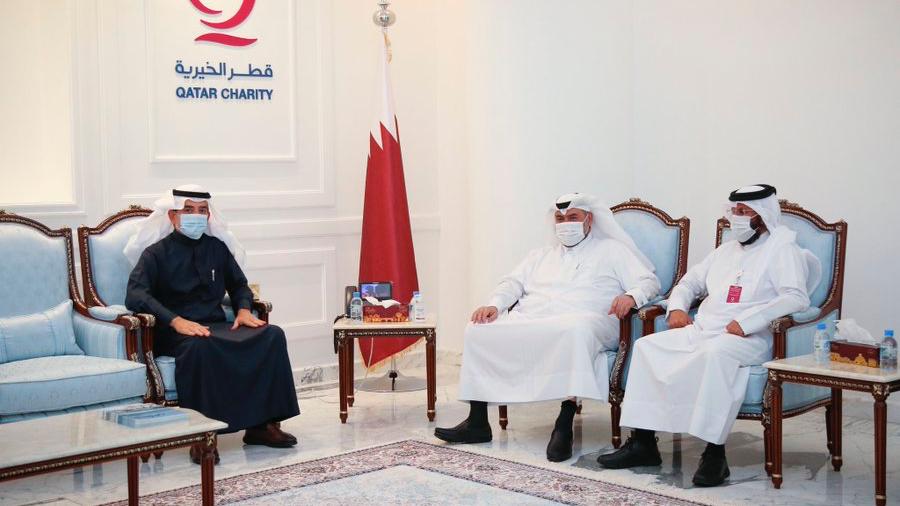 20 January 2022
Dr. Salim M. AlMalik, Director-General (DG) of the Islamic World Educational, Scientific and Cultural Organization (ICESCO), met with Mr. Youssef bin Ahmed Al-Kuwari, CEO of Qatar Charity, and together they discussed means of enhancing cooperation and developing the existing partnership between the Organization and the Charity in several areas. These include social development, teaching the Arabic language, ensuring quality education for all, ensuring equal access to opportunities for both genders, building the capacities of girls and women, and fighting school dropout among girls. 
During the meeting, held on Thursday, January 20, 2022, at Qatar Charity's headquarters in Doha, Dr. AlMalik reviewed the main thrusts of ICESCO's vision and its strategic orientations. He also reviewed the Organization's roles in its areas of competence, particularly in providing educational training for teachers of Arabic to non-Arabic speakers through ICESCO's educational centers, namely ICESCO's Regional Educational Center in Chad. Qatar Charity provided financial support for the establishment of this Center along with other humanitarian and social projects for the benefit of countries of the Islamic world.
ICESCO DG also commended the joint work between the Organization and the Charity, where their objectives converge in the humanitarian field.
"ICESCO, in cooperation with several donors, provided assistance to a number of countries in need to support their efforts in countering the negative impact of the COVID-19 pandemic. We helped provide mobile health services for vulnerable groups, particularly in remote and rural areas, and helped countries in reforming their educational systems and reaping the maximum benefits from projects and activities," noted Dr. AlMalik.
The meeting touched upon the proposed areas for enhancing cooperation between ICESCO and Qatar Charity, notably education, culture, and medical caravans. The two parties reiterated their keenness to build constructive cooperation within the framework of a new partnership agreement based on practical implementation programs and projects with tangible outcomes.
At the close of the meeting, Dr. AlMalik invited Mr. Al-Kuwari to visit ICESCO's Headquarters in the Kingdom of Morocco to get acquainted with the projects, initiatives and ongoing activities implemented by the Organization for the benefit of its Member States.
In appreciation of his efforts in leading ICESCO in carrying out its remarkable roles, Qatar Charity's CEO presented Charity's Shield to ICESCO DG.