At Close of its Proceedings, ICESCO International Conference Recommends Supporting Women Initiatives to Develop Arabic language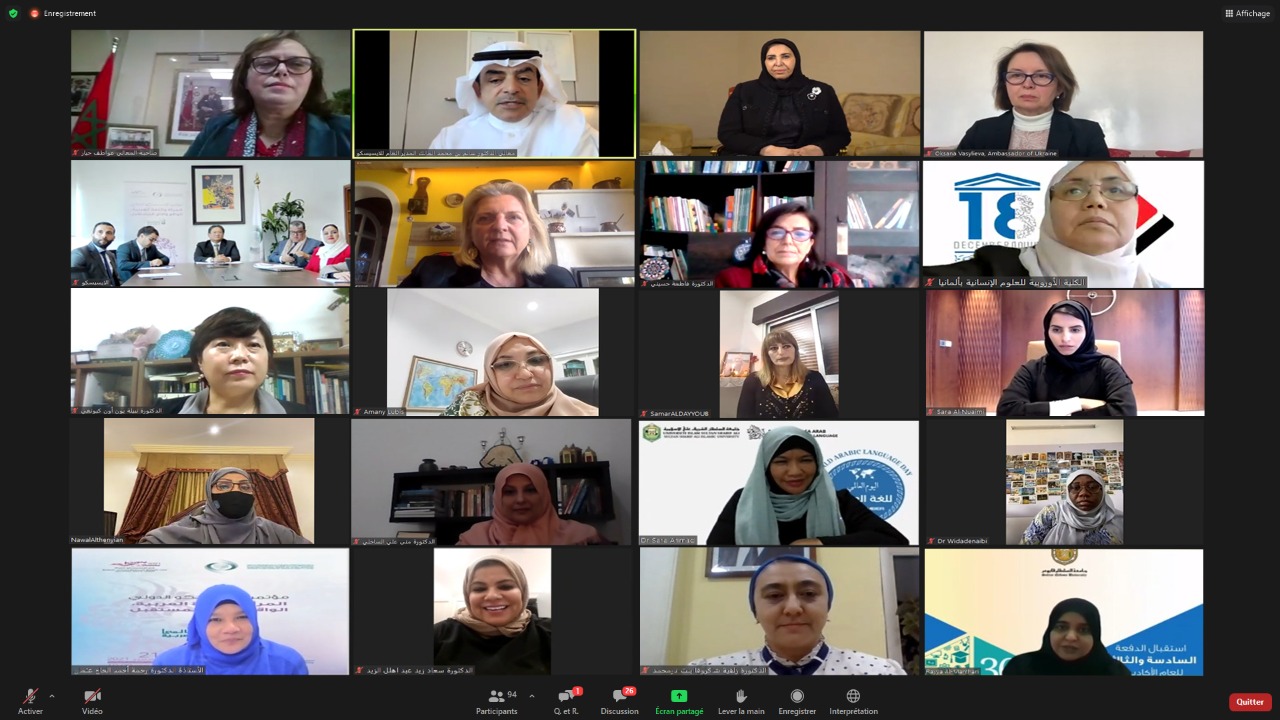 22 December 2021
The participants in the ICESCO International Conference on "Women and Arabic Language: Realities and Future Prospects", that the Islamic World Educational, Scientific and Cultural Organization (ICESCO) held in celebration of the World Arabic Language Day 2021, underlined the importance of highlighting women's civilizational and human roles as well as their contributions and achievements in service of promoting Arabic. Participants also stressed the need to support women's initiatives aiming at developing the Arabic language and promote their literary creations.
The conference was held on Tuesday, December 21, 2021, via videoconference, as part of the celebration of 2021 as the Year of Women, which was granted the high patronage of His Majesty King Mohammed VI of Morocco. The conference saw high-caliber participation including senior officials, poets, and specialists in the Arabic language.
The opening session was marked by the opening remark of the Dr. Salim M. AlMalik, ICESCO Director-General, followed by the addresses of the guests of honor. Afterwards, Dr. Fatima Houssaini, Vice-President of the National Coalition for the Arabic Language of Morocco, moderated the first working session, which discussed the topic of "Women's contributions to Arabic language promotion". The second working session addressed the theme of "Women Leadership in Linguistic Upbringing" and was moderated by Dr. Widad Naibi, Director of Ibn Batouta African Institute in Benin, while the third working session was moderated by Dr. Nawal bint Sulaiman Al-Thunayan, Advisor at Princess Nora bint Abdulrahman University in Saudi Arabia and discussed "Women's future roles in Arabic language promotion".
The working sessions featured presentations on key academic studies and papers in the field of Arabic and yielded innovative ideas and practical proposals to promote women's presence and highlight their contributions to develop and preserve Arabic's status as a prominent world language.
At the close of the conference, participants issued a number of recommendations, notably the need to highlight the shared responsibility between men and women to promote and serve Arabic through engaging them both in all cultural and human projects and activities, and the importance of creating Arabic programs that address women's issues from educational, cultural and entertainment standpoints. The participants also recommended organizing workshops to build the capacities of women Arabic teachers, especially non-native speaker; launching new literary contests to highlight women's contributions and publicize their achievements in the field of Arabic; supporting academic research works and studies on women's contributions to Arabic; and creating interactive online spaces and digital platforms in service of Arabic for non-Arabic speakers.