ICESCO to Hold this Thursday Major Event on International Day of Women and Girls in Science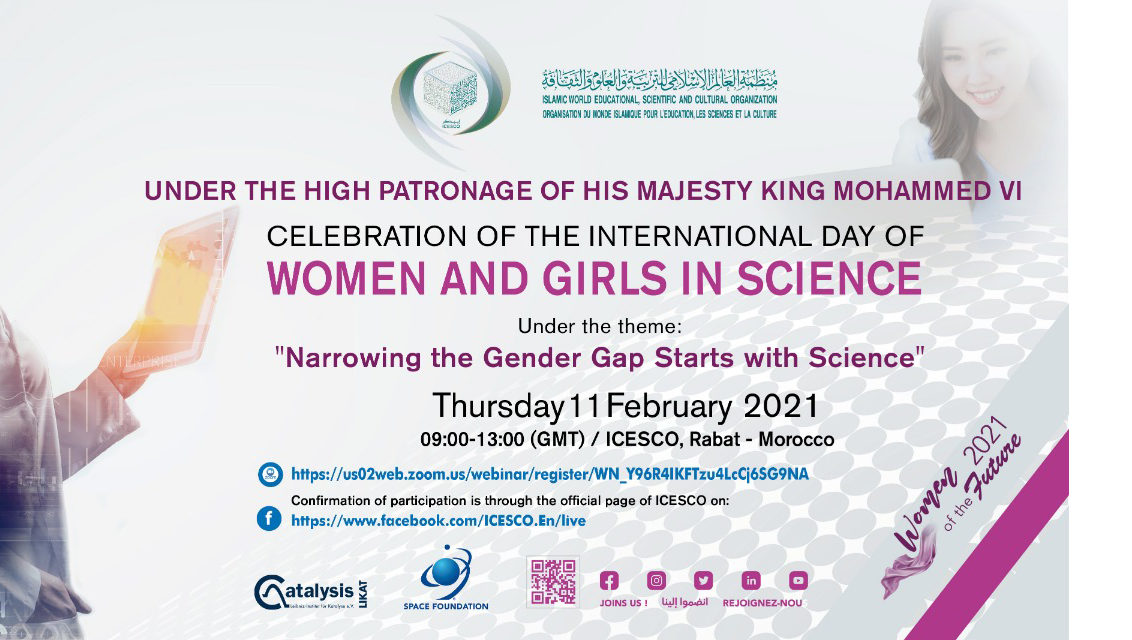 9 February 2021
Under the high patronage of H.M. King Mohammed VI, may Allah preserve him, of ICESCO's Year of Women 2021, the Islamic World Educational, Scientific, and Cultural Organization (ICESCO) will hold, on Thursday, February 11, 2021, a major international event in celebration of the International Day of Women and Girls in Science. The celebration is under the theme "Narrowing the Gender Gap Starts with Science," and is being conducted in partnership with the Leibniz Institute for Catalysis (LIKAT) of the Leibniz Association in Germany and Space Foundation in the United States.

The event, which will take place face-to-face at ICESCO headquarters in Rabat and also by videoconference at 09.00 UTC, is part of the international programs and activities the Organization will implement throughout the year in appreciation of the role of women and promotion of their status.

Ms. Mehriban Aliyeva, First Lady and First Vice President of Azerbaijan, will give a recorded address at the celebration opening. The opening ceremony will see the participation of H.R.H. Princess Somaya bint Al-Hassan, President of the Royal Scientific Society of Jordan (RSS), and Dr. Ameenah Gurib-Fakim, Former President of Mauritius. It will also bring together high-level female figures, Nobel Laureates, specialists in different fields of science, and professors in prominent universities across the globe.

The celebration will be an opportunity for the participants to exchange views and ideas on the various issues pertaining to women in science and technology, including the elimination of discrimination and achieving gender parity through science and technology by launching and implementing initiatives and programs and ensuring quality education for women and girls.
To receive a certificate of participation in the celebration, attendees can register on Zoom via the following link:
https ://us02web.zoom.us/webinar/register/WN_Y96R4IKFTzu4LcCj6SG9NA
Attendees can access the live streaming of the celebration through ICESCO's official page on Facebook via the following link:
https://www.facebook.com/ICESCO.En