Senegal President reiterates support to ISESCO at reception of ISESCO Director General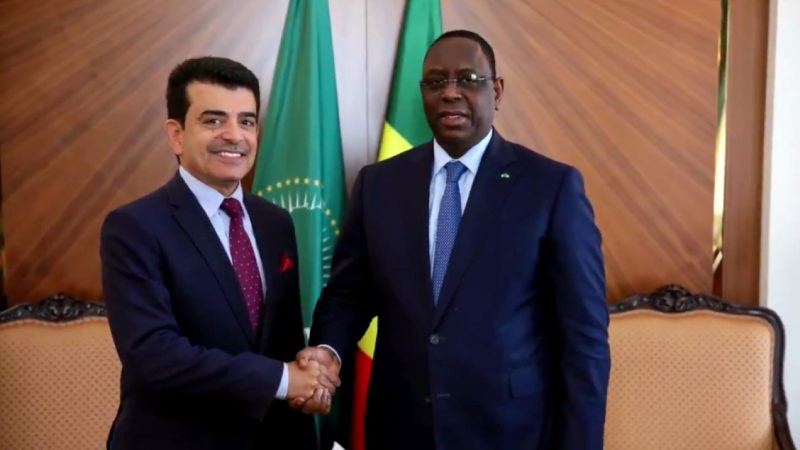 7 January 2020
The President of the Republic of Senegal, H.E. Mr. Macky Sall, at the Presidential Palace in Dakar, received Dr. Salim M. AlMalik, ISESCO Director General, who is in Senegal at the beginning of an official visit that also includes Niger and Guinea.
At the outset of the meeting, Dr. AlMalik congratulated the President of the Republic for the progress witnessed in Senegal in consistency with its regional role and significant position in the African continent. He also reviewed ISESCO's new vision and priorities to meet Member States' needs in the fields of education, science and culture and consolidate and support their efforts towards achieving sustainable development.
Moreover, ISESCO Director General evoked the Waqf Fund Project to secure sustainable resources for financing the Organization's projects and programmes to ensure that Member States benefit to the fullest from them. Dr. AlMalik reiterated ISESCO's support to Quranic schools in Senegal which receive a special attention from President Sall.
For his part, the President of the Republic lauded the efforts made by ISESCO Director General to develop the Organization and enhance its roles in supporting Member States, under its new vision.
He also expressed the willingness to support and bolster ties with ISESCO and facilitate its action in Senegal, in the joint cooperation areas of ISESCO and the Senegalese competent authorities. He also voiced Senegal's intention to provide financial and technical support to the Waqf project, while commending the promising prospects of the Organization's future action and projects.
The meeting was attended by Dr. Ahmed Said Bah, Director of External Relations and Cooperation, and Ms. Ramata Almamy Mbaye, Director of Social and Human Sciences.