ISESCO Director General meets with Kyrgyzstan's Foreign Minister and Minister of Culture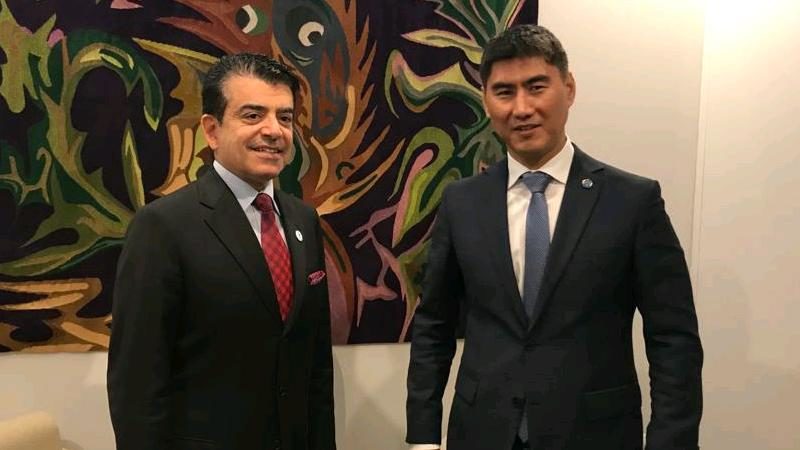 19 November 2019
Today in Paris, the Director General of the Islamic Educational, Scientific and Cultural Organization (ISESCO), Dr. Salim M. AlMalik, met with the Minister of Foreign Affairs of the Kyrgyz Republic, Mr. Chingiz Aidarbekov, on the sidelines of their participation in the 40th UNESCO General Conference.
During this meeting, which was attended by Mr. Zhamankulov Azamat Kaparovich, Minister of Culture, Information, and Tourism of the Kyrgyz Republic, Dr. AlMalik presented ISESCO's new vision, which prioritizes enabling youth, women, and children of their educational, scientific, cultural, technological, and environmental rights; and commits to open up to and cooperate with other international organizations operating in the same fields of action.
ISESCO Director General also affirmed the Organization's aim to develop cooperation with Kyrgyzstan in light of the new action strategy, which is based on providing programmes and activities, upon the request of Member States, in a way that goes in line with their respective needs.
For his part, Kyrgyzstan's Foreign Minister reaffirmed his country's keenness to develop joint action with ISESCO, stating that the Organization's approach towards empowering the youth will be met with considerable attention from his country, especially that 60% of the population of Kyrgyzstan is under 40 years of age, and they need projects to develop their competences.
In the same vein, the Kyrgyz Minister of Culture stated that there is a need to develop cooperation between ISESCO and Central Asian countries in the field of culture, pointing out to a number of programmes that his country wishes the Organization to be a partner in.