ICESCO Director-General Receives Grand Mufti of Arab Republic of Egypt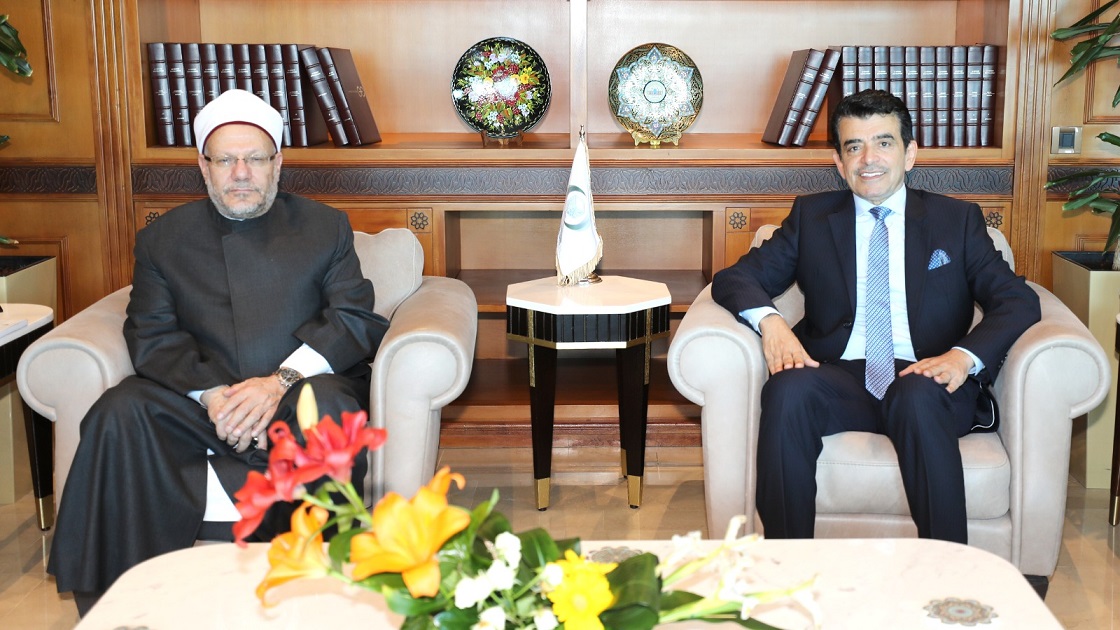 31 March 2023
Dr. Salim M. AlMalik, Director-General of the Islamic World Educational, Scientific and Cultural Organization (ICESCO), received His Eminence, Dr. Shawki Allam, Grand Mufti of the Arab Republic of Egypt, who visited ICESCO Headquarters in Rabat and the International Museum and Exhibition of the Prophet's Seerah and Islamic Civilization, on Thursday, March 30, 2023.
The meeting was attended by Ambassador Yasser Mustafa Othman, Ambassador of Egypt to Morocco, Dr. Abdelilah Benarfa, ICESCO Deputy Director-General, and several heads of the Organization's departments and centers. At the outset, Dr. AlMalik welcomed Dr. Allam, praising the strong partnership and cooperation relations between the Organization and Egypt in its areas of competence, and the patronage of H.E. President Abdel Fattah El-Sisi of ICESCO's General Conference, which was held in the New Administrative Capital in December 2021, in cooperation with the Egyptian National Commission.
The Director-General also commended the year-long programs and activities the Egyptian Ministry of Culture implemented, in cooperation with ICESCO, as part of the celebration of Cairo as the Culture Capital in the Islamic World, which was concluded this month.
Moreover, Dr. AlMalik highlighted the axes of ICESCO's vision and strategic orientations, and shed light on the initiatives, programs, and activities it implements in support of its Member States' efforts to develop the fields of education, science and culture.
For his part, the Grand Mufti of Egypt expressed his delight at visiting ICESCO, commending the roles it plays in the fields of education, science and culture, and its endeavors to highlight the civilizational aspects of the Prophet's Seerah and present the true image of Islam to the world.
The meeting discussed the prospects of cooperation between ICESCO and Egypt's Dar al-Iftaa, through the organization of joint international conferences and activities, especially about family affairs, social cohesion in the Islamic world, and future challenges that may face the world.
Following the meeting, Dr. AlMalik accompanied Dr. Allam on a tour of the International Exhibition and Museum of the Prophet's Seerah and Islamic Civilization, currently housed at ICESCO Headquarters, which is the fruit of a strategic partnership with the Muslim World League and the Muhammadia League of Scholars in the Kingdom of Morocco. Dr. Allam received a detailed presentation of the contents of the Exhibition's various pavilions and sections, which all rely on modern display techniques.
At the end of the tour, the Grand Mufti of Egypt stressed the importance of the Exhibition and Museum in publicizing the details of the life of the Prophet, peace and blessings be upon him, pointing out that it takes its visitors on a spiritual journey to the time of the Prophet, thanks to its simplified encyclopedic display using the latest technology and augmented reality techniques.