ICESCO and ILO Discuss Strengthening Cooperation in Social and Humanitarian Fields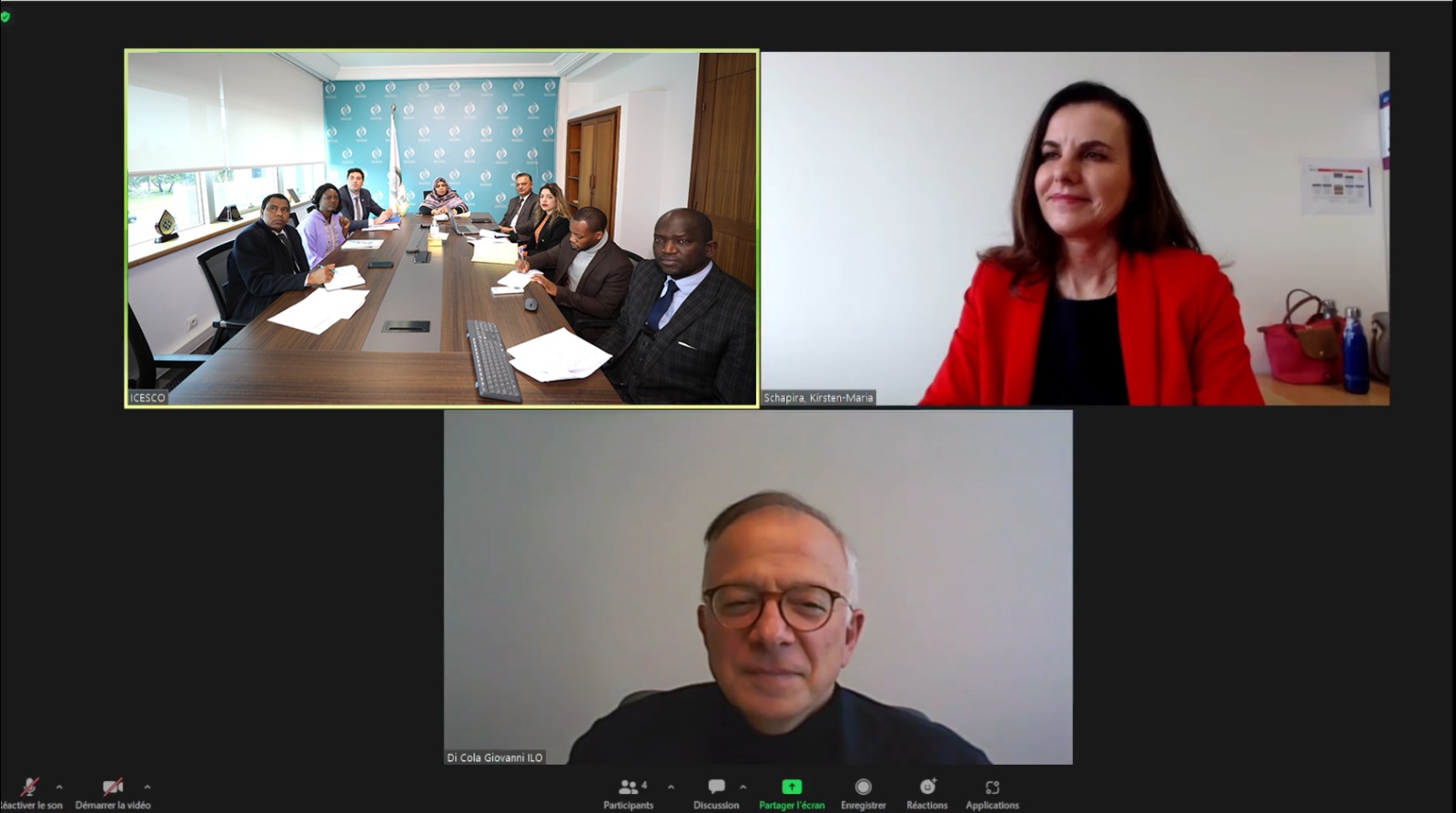 9 February 2023
The Islamic World Educational, Scientific and Cultural Organization (ICESCO) held a meeting with the International Labor Organization (ILO) to discuss ways for strengthening cooperation between the two organizations and implementing joint programs and activities in social and humanitarian fields to achieve sustainable development.
Ms. Amira EL Fadil, Head of the Partnerships and International Cooperation Sector, Dr. Raheel Qamar, Head of the Sciences and Technologies Sector, Ms. Ramata Almamy Mbaye, Head of the Social and Human Sciences Sector, and Mr. Mohamed Hedi Shili, Head of the Department of Legal Affairs and International Standards, represented ICESCO at the meeting, which was held on 8 February 2023, via videoconference, while Dr. Giovanni Di Cola, Advisor to the Deputy Director General for Field Operations and Partnerships, and Ms. Kirsten Maria Schapira-Felderhoff, Senior Multilateral Cooperation Specialist, represented ILO.
During the meeting, Mrs. Amira El-Fadil highlighted the importance of coordination and agreement on the terms of the proposed memorandum of understanding (MoU) between ICESCO and ILO, which will include issues of common concerns between the two organizations, mainly social justice, equality in the workplace, promoting decent jobs and tomorrow's jobs, fighting child labor, protecting children, mental health at work, and preparing training sessions in the field of foresight.
For his part, Dr. Giovanni Di Cola reaffirmed the ILO's eagerness to cooperate with ICESCO in addressing social issues, empowering women, promoting decent jobs, developing youth skills and guiding them toward tomorrow's jobs.
In conclusion, the two parties agreed on the mechanisms of establishing work teams to formulate and implement the MoU, which will be signed between the two organizations, based on a clear action plan.