ICESCO and WHO Explore Avenues for Closer Cooperation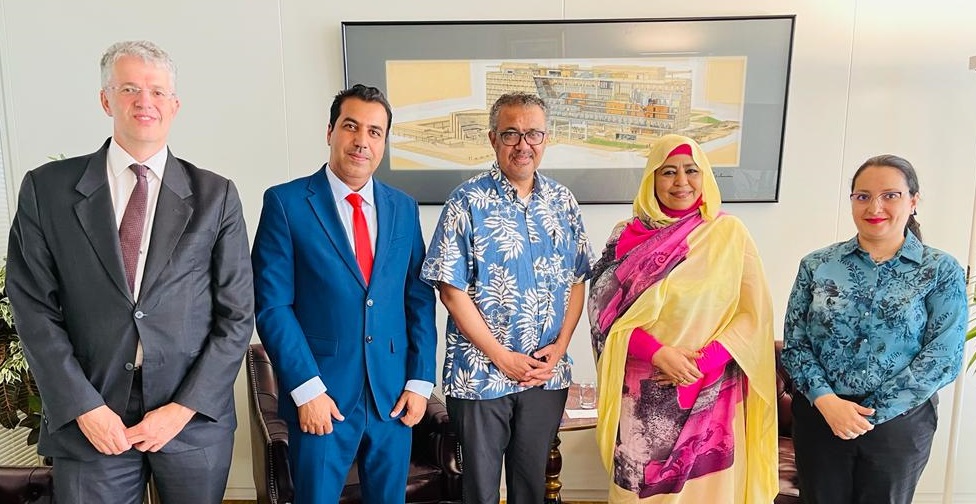 23 July 2022
A delegation from the Islamic World Educational, Scientific and Cultural Organization (ICESCO) explored avenues for closer cooperation with the World Health Organization (WHO), during a meeting with Dr. Tedros Adhanom Ghebreyesus, WHO Director-General, at the Organization's headquarters in Geneva.
During the meeting, the ICESCO delegation, comprised of Ms. Amira El Fadil, Head of the Partnerships and International Cooperation Sector, Mr. Salim Al Habsi, Programme Director at the General Secretariat of National Commissions and Conferences, and Ms. Rime Jirari, Head of the Organizations and Bodies Department in the Partnerships and International Cooperation Sector, reviewed the Organization's vision and new action strategy, which seek to promote comprehensive and sustainable development in the Islamic world and beyond.
The delegation noted ICESCO's vast network of distinguished partnerships with international and regional organizations, stressing its openness to cooperation with civil society institutions and donors to support the efforts of the Member States in need in advancing various areas, including health care.
The two parties discussed means to enhance cooperation between ICESCO and WHO through the joint implementation of programmes and organization of activities and forums, to address global challenges, promote innovative solutions, and develop investment in health care.
They also agreed on strengthening the implementation of the memorandum of understanding between the two Organizations to develop their strategic partnership, particularly during this critical period in which the repercussions of the COVID-19 pandemic continue to affect the world.