ICESCO Director-General Receives Ukrainian Ambassador in Rabat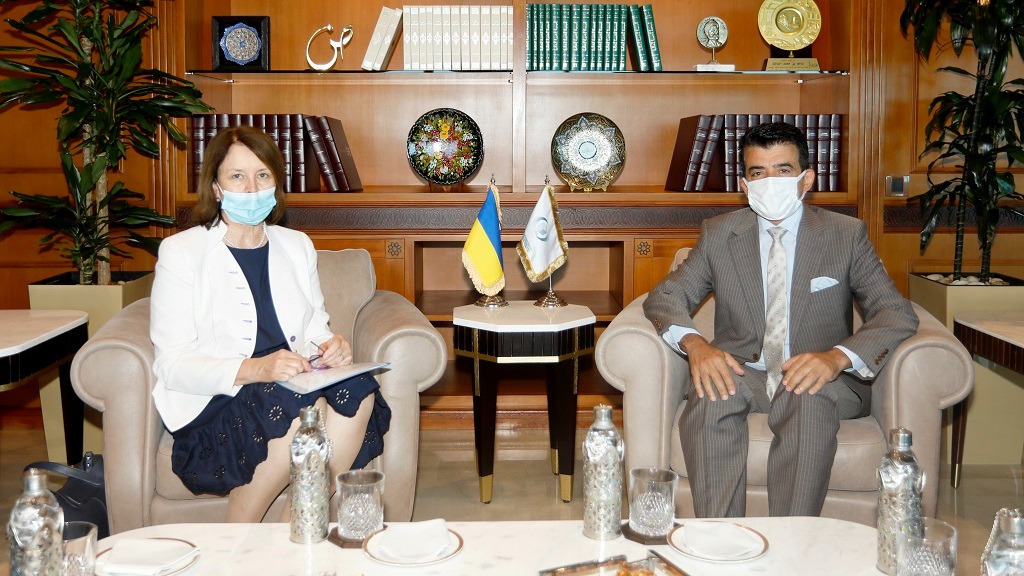 20 August 2021
Dr. Salim M. AlMalik, Director-General (DG) of ICESCO, received Ms. Vasilyevia Oksana Yuryevna, Ambassador Extraordinary and Plenipotentiary of Ukraine to Morocco, where they discussed the prospects of cooperation between ICESCO and Ukraine in the fields of education, science and culture.
During the meeting held at ICESCO headquarters on 19 August 2021, in the presence of several officials from ICESCO's sectors, Dr. AlMalik stressed that ICESCO is adopting more communication and openness, not only with the Member States but also with non-Member States and international organizations, bodies and institutions, as well as civil society organizations concerned with its fields of competence. It also builds partnerships and cooperation for the benefit of the Member States and Muslim communities worldwide.
The meeting focused on further consultation and coordination between ICESCO and Ukraine to strengthen cooperation in the educational, scientific and cultural fields, and to form a joint working group to develop and implement cooperation programs and projects.
Ms. Vasilyeva Oksana Yuryevna praised the excellent work of ICESCO, stressing Ukraine's readiness to cooperate with the Organization in its fields of activity, and its willingness to ensure the success of this cooperation.