ICESCO and Chad National Commission in Partnership with Alwaleed Philanthropies Launch Support Project to Women and Youth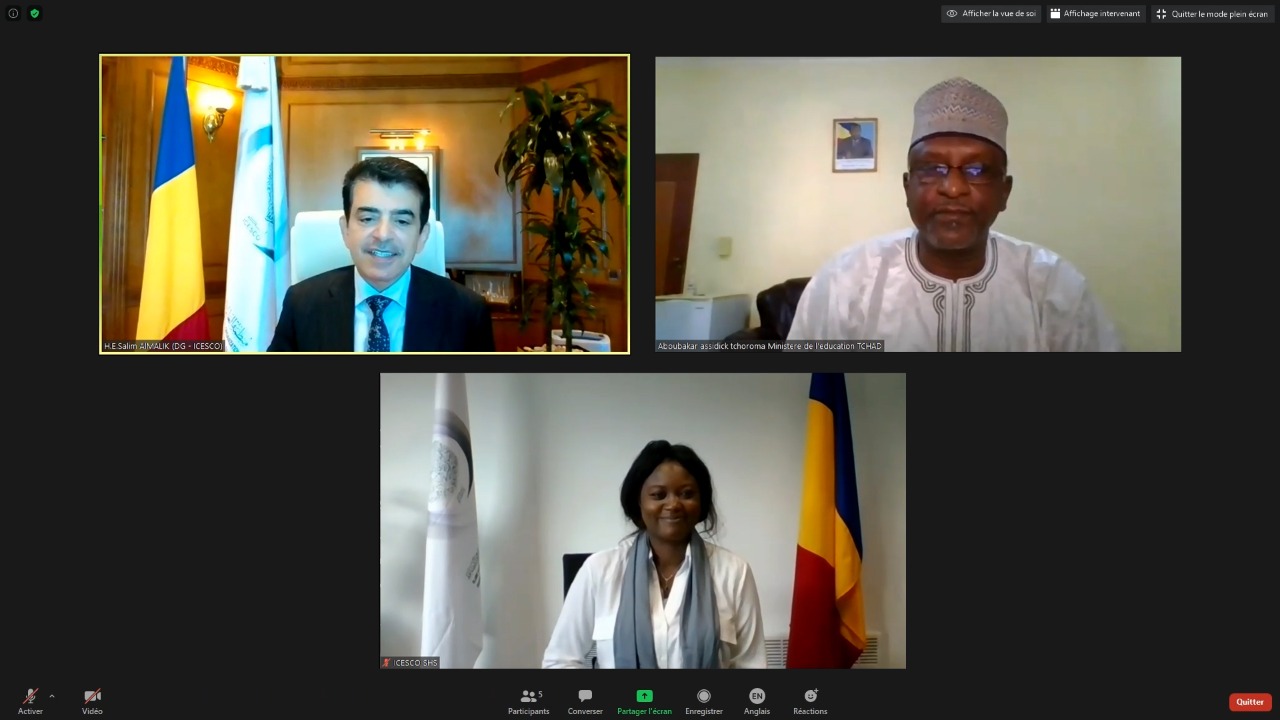 15 December 2020
The Islamic World Educational, Scientific, and Cultural Organization (ICESCO) and the Chadian National Commission for Education, Science, and Culture launched the project "Countering COVID-19 Effects through Supporting Innovation and Entrepreneurship among Women and Youth" in Chad, in partnership with Alwaleed Philanthropies to help 10 African countries fight the adverse repercussions of the COVID-19 pandemic.
Dr. Salim M. Al-Malik, ICESCO Director-General (DG), and Mr. Aboubakar Siddick Choroma, Minister of National Education and Civic Promotion, President of the Chadian National Commission for Education, Culture, and Science, graced today, Tuesday, December 15, 2020, the launching event.
In his address at the ceremony, Dr. AlMalik reaffirmed that ICESCO will continue supporting its Member States' efforts to counter COVID-19, as part of its vision to identify the needs and priorities of each Member State.
The DG also expressed his gratitude to ICESCO's permanent partner, Alwaleed Philanthropies, whose Board of Trustees is chaired by H.R.H. Prince Alwaleed bin Talal Al-Saud, for the Foundation's generous support to ICESCO's humanitarian and social initiatives to help 10 African countries, including Chad.
Mr. Choroma lauded excellent initiatives, programs, and activities that ICESCO launched and implemented during the COVID-19 pandemic to bolster the efforts of Member States in countering the negative impact of the pandemic. He also appreciated the Alwaleed Philanthropies' assistance to Chad through the partnership with ICESCO.
At the end of the ceremony, the two parties signed a memorandum of understanding (MoU) on the implementation phases of the project. The aim is to develop a sense of innovation and entrepreneurship among women and youth in Chad and support the private sector, entrepreneurs, and small enterprises.
For four decades, the Foundation has supported and spent more than SAR 15 billion and carried out thousands of projects in over 189 countries. Ten Saudi female members manage the projects, reaching more than one billion beneficiaries around the world, regardless of gender, race, or religion. Alwaleed Philanthropies collaborates with a range of philanthropic, governmental, and educational organizations to combat poverty, empower women and youth, develop communities, provide disaster relief, and create cultural understanding through education.Together, we can build bridges for a more compassionate, tolerant, and accepting world.