AlMalik and El-Enany explore ICESCO-Egypt cooperation promotion in the heritage field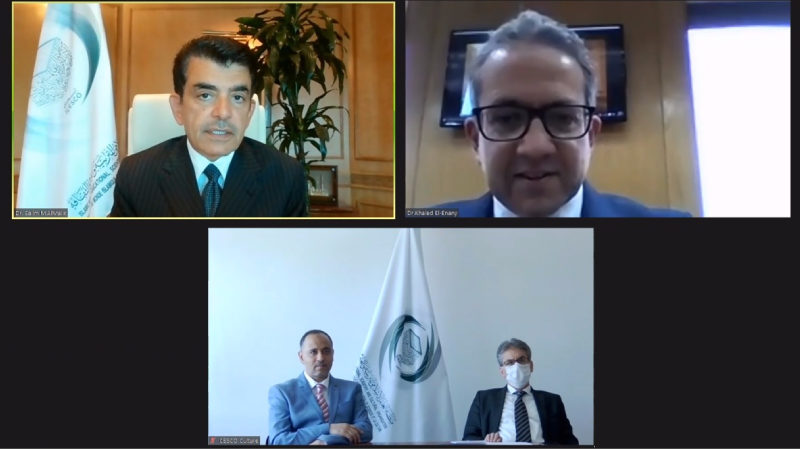 30 June 2020
**Egypt's museums at ICESCO Digital Home
Dr. Salim M. AlMalik, Director General of the Islamic World Educational, Scientific and Cultural (ICESCO), and Dr. Khaled El-Enany, Minister of Tourism and Antiquities of the Republic of Egypt, during a videoconference meeting agreed to develop cooperation between ICESCO and Egypt in the field of heritage preservation and the fight against illicit trafficking in cultural property.
The two parties examined several topics, namely the inscription of the Egyptian sites inscribed on the World Heritage List (WHL) (6 sites on the final list and 49 on the tentative one) on the Islamic World Heritage List (IWHL), and the examination by the Islamic World Heritage Committee (IWHC) of the inscription of the building of the Grand Egyptian Museum (GEM) on ICESCO Modern Architectural Heritage List. They also discussed the use of experts from both parties to hold sessions on the preparation of application files for the inscription of heritage sites on the IWHL and WHL.
The Egyptian Minister agreed to exhibit Egyptian heritage sites and museums, already prepared by the Ministry in their digital format, on ICESCO's Heritage Portal and ICESCO Digital Home.
Dr. AlMalik and Dr. El-Enany reaffirmed the cooperation between ICESCO and Egypt in the field of fighting illicit trafficking in cultural property and the need to propose new mechanisms for combating this crime at a webinar to be held by ICESCO for this purpose. Moreover, they agreed to set up a small working group bringing together Egypt, several Member States, and international experts to draw up a practical approach to this cause.

For his part, the Egyptian Minister suggested the establishment of a regional center in Egypt, in cooperation with ICESCO and UNESCO, tasked with fighting illicit trafficking in cultural property and ensuring its restitution, a move welcomed by ICESCO Director-General. The two parties also agreed to cooperate in the organization of training sessions in partnership between ICESCO, the Egyptian Ministry of Tourism and Antiquities in the preservation, documentation, inventory, protecting and restoration of monuments, especially with the Restoration Center of the Egyptian Grand Museum, known for its technical potentials and expertise in capacity-building for restoration specialists in the Islamic world.
Dr. El-Enany invited Dr. AlMalik for a visit to Egypt. Dr. AlMalik welcomed the invitation and promised to visit the country as early as possible.
The meeting was attended by Mr. Najib Rhiati, Director of the Sector of Culture and Communication, Dr. Osama Elnahas, Heritage Expert at the Sector, and Amb. Maged Mosleh, Supervisor of Central Department for Public and International Relations at the Ministry.