Special Ceremony on the occasion of the distribution of grants by Alwaleed Philanthropies and ICESCO in Côte d'Ivoire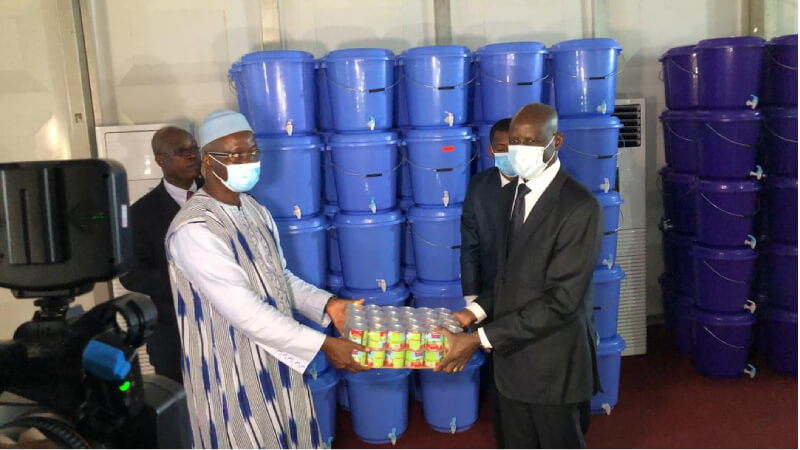 26 June 2020
In the evening of Thursday 25 June 2020, a special ceremony was held in Abidjan with the attendance of the Ivorian Minister of Education, as well as representatives of civil society organizations and the Muslim community in Côte d'Ivoire, on the occasion of the distribution of humanitarian aid provided under the response initiative to the repercussions of the COVID-19 pandemic on the country. Launched by the Islamic World Educational, Scientific and Cultural Organization (ICESCO) and the Alwaleed Philanthropies, this initiative includes the provision of medical stuff and humanitarian aid to those in need during the health crisis, as well as support to entrepreneurs in 10 African countries.
The ceremony included the screening of a video clip in which H.R.H. Princess Lamia Bint Majed Saud Al Saud, Secretary-General of Alwaleed Philanthropies, delivered a message saying: "We all have a role to play in addressing the epidemic. We are proud to be part of an initiative in Côte d'Ivoire that will support those most in need with valuable resources to raise health awareness and protect the health of present and future generations."
In another video clip, former football star Didier Drogba said: "In difficult times we have to support each other. By providing these vital resources, we enable family members to sustain themselves and maintain their health. I am proud to support the efforts of Alwaleed Philanthropies and ICESCO to help communities in Côte d'Ivoire."
For his part, Dr. Salim M. Al-Malik, ICESCO Director General, stressed in his video message the importance of supporting the Organization's Member States in addressing the repercussions of this pandemic, indicating that the private sector, which accounts for 95% of small enterprises in these countries, will benefit from this support and other forms of aid. He pointed out that in the event of collapse, this sector would need decades to be rebuilt.
During this ceremony, Mr. Adama Diawara, Ivorian Minister of Higher Education, President of the Ivorian National Commission for Education, Science and Culture, presented the aid, valued at US$40,000, to 18 NGOs to distribute it to people in need. He also expressed his Government's gratitude to Alwaleed Philanthropies and ICESCO for this aid.
This aid, which is provided by the Alwaleed Philanthropies to Côte d'Ivoire, includes foodstuffs such as rice, common bean, maize, flour, milk, oil, sugar, etc., as well as medical supplies to help prevent the new coronavirus.
It is worth noting that the distribution of aid in Côte d'Ivoire is part of the partnership action plans between Alwaleed Philanthropies and ICESCO, aimed at providing support to 10 countries, namely: Sudan, Morocco, Burkina Faso, Chad, Mali, Nigeria, Mauritania, Côte d'Ivoire, Niger, and Senegal. The aim is to strengthen the production of antiseptics, protective masks, and respirators, as well as to support and empower young businesspersons in the non-formal sector at the local level.