ICESCO earmarks nine individual prizes for creative students and provides training programs in "Distance Culture" initiative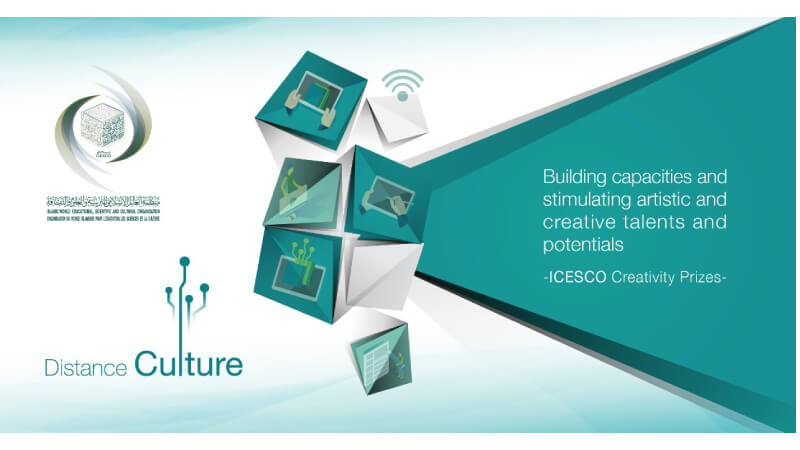 1 April 2020
The Islamic World Educational, Scientific and Cultural Organization (ICESCO) has launched the "Distance Culture" initiative as part of the "ICESCO Digital Home" program in support of the efforts of the Member States and the international community in mitigating the effect of Coronavirus (COVID-19). This initiative is aimed at finding alternative solutions to sustainable educational, scientific and cultural undertakings, that includes building capacities, encouraging creative and artistic talents, and allocating ICESCO Creativity Prizes.
This new initiative includes distance training and capacity building for the benefit of professionals working in heritage fields. Accordingly, the Organization will prepare several videos containing training programs in the fields of tangible and intangible heritage, which will be uploaded on its website, www.icesco.org, starting from 15 April 2020. The videos will cover the following themes:
1.Documentation of cultural heritage through AI applications;
2.Management of risks, crises, and disasters at heritage sites and museums;
3.Techniques of an inscription of heritage sites and landmarks on the Islamic World Heritage List and World Heritage List;
4.Rehabilitation of endangered handicrafts;
5.Promotion of the general principles of museum management in the Islamic world;
6.Knowledge of the general principles of the documentation of elements of intangible heritage and national inventories;
7.Protection of underwater cultural heritage.
Moreover, the "Distance Culture" initiative is an opportunity for students to enrich their cultural knowledge during the period of lockdown. It also includes awarding three prizes in the following cultural fields:
1.Short story writing (5 to 10 pages);
2.Making a painting;
3.Musical composition or creative work.
The value of the prizes stands at USD 6,000, USD 4,000, and USD 2,000, respectively. Winners will also be handed certificates of appreciation.
National Commissions and competent authorities in the Member States will be in charge of contacting educational institutions to invite students to participate in these contests. They will also be in charge of selecting three works from each category and sending them to ICESCO before the end of June 2020. ICESCO will set up an international jury to select the best three works from each category, out of the recommendations sent by the National Commissions and competent authorities.
Additionally, the initiative provides e-reading opportunities through digital libraries available on ICESCO's website and other websites. It also invites publishers to adopt electronic publishing alongside paperback publishing and launch a web platform for publishing youth's literary materials. It further enjoins Member States to exhibit their museum collections in virtual portals. Member States' National Commissions and competent parties are encouraged to contact publishers and curators of libraries, museums, and exhibitions, urging them to engage in these initiatives for the greater student benefits.