Cooperation between ISESCO and Libya explored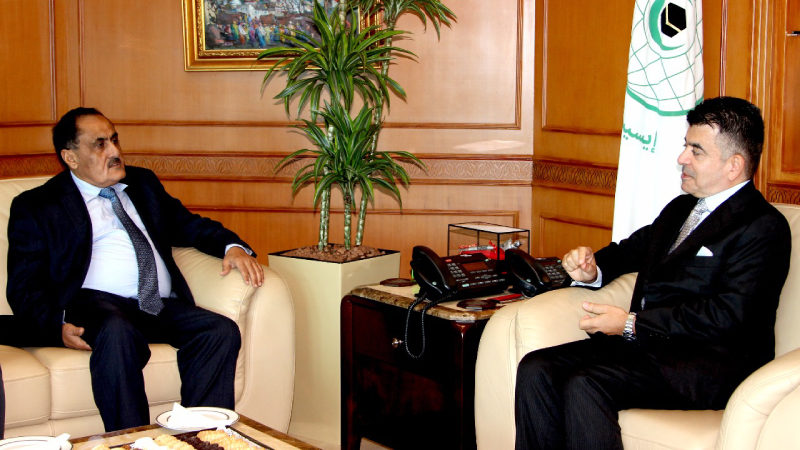 27 November 2019
The Director General of the Islamic Educational, Scientific and Cultural Organization (ISESCO), Dr. Salim M. AlMalik, received Abdelmajid Ghait Seif Ennasr, Chargé d'Affaires of the Libyan Embassy in Rabat, today at the Organization's headquarters and together they explored ways to further cooperation between ISESCO and the State of Libya in the fields of education, science and culture under ISESCO's new vision and future action strategy.
Talks during this meeting centered on the obstacles to education process in Libya and possible measures to overcome them and ways to allocate some programmes for Libya, namely in safe areas which are most in need for some educational services, as part of ISESCO's new vision that focuses on sustainable development issues, elimination of poverty, counter-terrorism and eradication of extremism, youth and women empowerment, support of civil society, child protection and teaching of refugees and displaced people.
Moreover, the two parties considered inviting a delegation from the World Islamic Call Society, a Libyan philanthropy, to discuss cooperation prospects in the common action areas.
For his part, ISESCO Director General reaffirmed the need to attract some qualified Libyan competencies to work at the Organization and invite a Libyan intellectual to lecture at one of ISESCO's Cultural Forum gatherings.
The meeting was attended by Dr. Ahmed Said Ould Bah, Director of External Relations and Cooperation; Dr. Kais Hammami, Director of Strategic Anticipation; and Dr. Abdelilah Ben Arafa, Cultural Advisor to ISESCO Director General.