Discussing Ways of Enhancing Cooperation Between ICESCO and China in Various Activities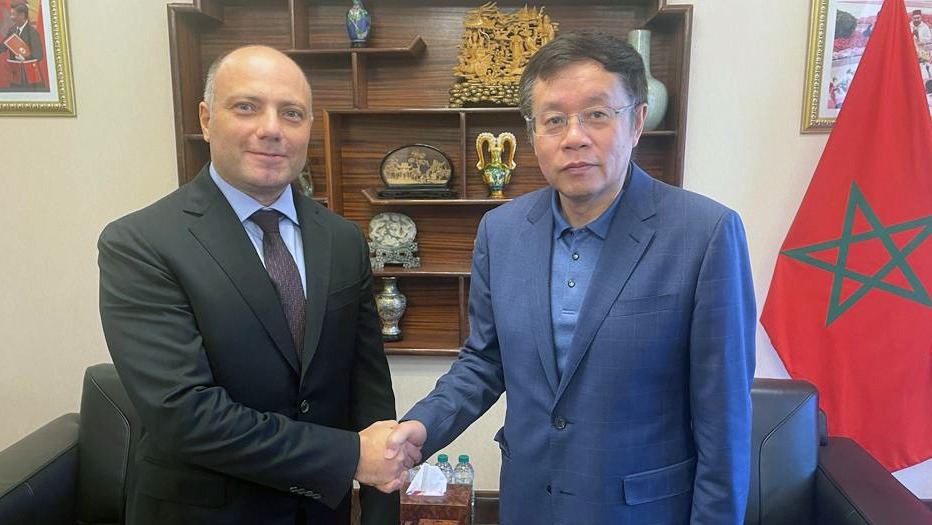 27 October 2023
A delegation from the Islamic World Educational, Scientific, and Cultural Organization (ICESCO), headed by Mr. Anar Karimov, Head of Partnerships and International Cooperation Sector, visited the Chinese Embassy in Rabat, where they met Mr. Li Changlin, Ambassador of the People's Republic of China to the Kingdom of Morocco.
During the meeting, held on Wednesday 25 October 2023, Mr. Karimov affirmed ICESCO's commitment, within its vision and strategic orientations, to an inclusive approach to ensure that everyone contributes to consolidating peace and security, developing innovation, supporting education, and empowering youth. Moreover, he noted that the Organization allows non-Member States to join as observers to serve Muslim communities worldwide and foster cooperation between these states and the Islamic world.
On his part, the Chinese Ambassador expressed his keenness to enhance cooperation with ICESCO, aiming to bring China closer to the Islamic world, emphasizing his country's openness to promoting tolerance and supporting innovation through youth and cultural exchanges.
The two parties agreed to maintain ongoing communication and coordination to organize an international conference on Silk Road, at ICESCO headquarters, in Rabat, in partnership with Shanghai International Studies University China (SISU), in early December 2023. The conference will bring together a large number of experts and researchers from China and other countries to present research papers and academic studies on the historical significance of the Silk Road, and address issues pertaining to the present and future of Silk Road that has bridged China to the rest of the world for centuries.
The meeting also brought together Dr. Muhammad Yusuf, expert at the Partnerships and International Cooperation Sector, and Dr. Min jie, expert at the Federation of the Universities of the Islamic World (FUIW), which is affiliated with the Organization.