ICESCO Participates in EdTech Korea Fair-Forum 2023
22 September 2023
The Education Sector of the Islamic World Educational, Scientific and Cultural Organization (ICESCO) took part in "EdTech Korea Fair-Forum 2023: Innovative Education with EdTech," hosted by the Ministry of Education and the Ministry of Trade, Industry and Energy of the Republic of Korea, in partnership with several Korean institutions in the field of education, technology and artificial intelligence.
The Fair-Forum, which kicked off on September 20, and continues until September 23, 2023, in Seoul, is a knowledge platform for policymakers, experts and stakeholders in education to discuss the foundations of achieving inclusive education through artificial intelligence and exchange of modern experiences and best practices in digital learning.
The Fair-Forum saw the organisation of the Global Education and Innovation Summit (GEIS) on September 21st with the participation of more than 200 global education leaders worldwide.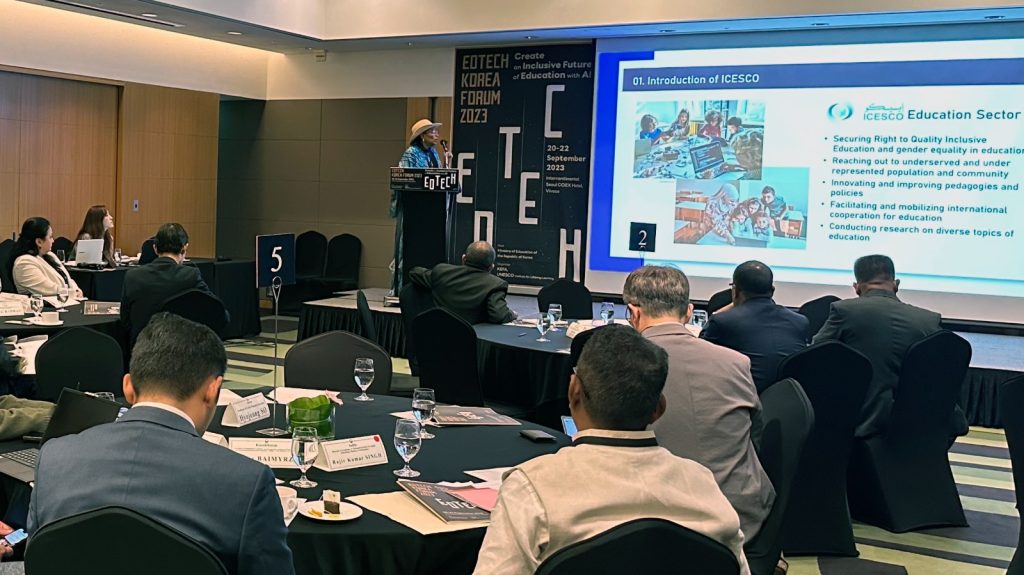 Dr. Koumbou Boly Barry, Head of ICESCO's Education Sector, shared the vision and activities of ICESCO and presented the Education Sector's projects and initiatives on education technology such as Digital Lab for Girls in Niger, Children's Library and eLearning Centre in addition to capacity building workshop for AI in ICESCO's Member States.
The Fair-Forum was also attended by Dr. Ahmed Al-Banyan and Dr. Sungbong Kim, two experts from ICESCO Education Sector.
ICESCO's delegation met with Dr. Ju-ho Lee, Deputy Prime Minister and Minister of Education of the Republic of Korea, to explore prospects for cooperation and initiate joint activities to extend Korea's experiences to ICESCO Member States.