ICESCO's training session for Arabic language educators in Djibouti closes its proceedings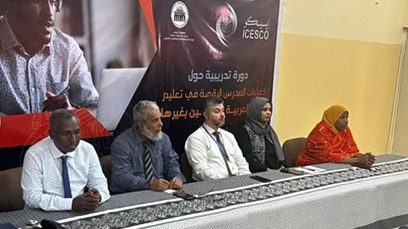 25 May 2023
The training session held by the Center of Arabic for Non-Arabic Speakers of the Islamic World Educational, Scientific and Cultural Organization (ICESCO) in Djibouti, in cooperation with the Ministry of Education and Vocational Training, and the National Commission for Education, Science and Culture on "Digital skills for teaching Arabic to non-Arabic speakers," closed its proceedings.
The session, which kicked off last Monday in Djibouti, benefited over fifty (50) educators end academic professionals engaged in Arabic education from thirty (30) private and public educational institutions.
Supervised by Dr. Anas H. Saeed, Expert at the Center, the session is aimed at equipping educators with the necessary skills to utilize modern technologies, platforms and digital resources to enhance their in-class teaching performance and provide them with valuable academic expertise to develop Arabic education curricula within educational institutions.