ICESCO launches program to produce 500,000 gum arabic tree seedlings in Mauritania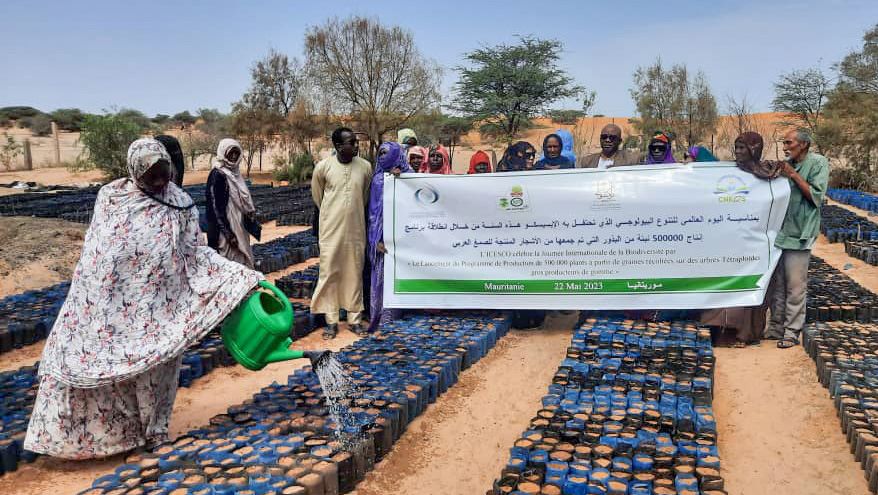 23 May 2023
In celebration of the International Day for Biological Diversity, observed annually on May 22, the Islamic World Educational, Scientific and Cultural Organization (ICESCO) launched a program to produce 500,000 seedlings of seeds collected from gum arabic trees in the Islamic Republic of Mauritania, in partnership with the following: the Mauritanian National Commission for Education, Culture and Science, the Pan African Agency for the Great Green Wall Initiative, the Healthy Tomorrow Organization for the Development and Protection of the Environment in Mauritania, and several women's incubators. The program is part of ICESCO's celebration of Nouakchott culture capital in the Islamic world for 2023.
The launch of the first phase of the program, held on Monday (May 22, 2023), saw the mobilization and training of female incubator workers to produce seedlings of gum arabic trees, raising their awareness of the importance of protecting the environment, ensuring the afforestation of areas affected by desertification, promoting good governance in natural resources use, reclaiming degraded lands, and harnessing best agricultural practices in order to contribute to providing sustainable income and achieving development in several areas in the Trarza Region in Mauritania.
The seedlings are to be grown in a nursery at this first phase, before being transferred to their permanent planting lots on a 12-hectare field, in August 2023.
During the launch, Dr. Ismaila Diallo, Expert at ICESCO's Science and Technology Sector, highlighted the objectives of the programme, notably contributing to combating desertification and enhancing the resilience of ecosystems to preserve biodiversity, which falls within the strategic priorities of the Organization to serve its Member States in general and Mauritania in particular, as it is considered one of the countries most affected by this phenomenon.