Exploring cooperation prospects between ICESCO and Sultanate of Oman in sports and youth capacity building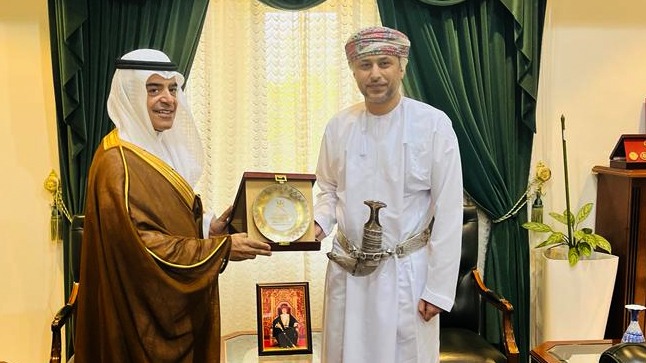 22 May 2023
Dr. Salim M. Al-Malik, Director-General (DG) of the Islamic World Educational, Scientific and Cultural Organization (ICESCO), met with Mr. Bassel bin Ahmed Al-Rawas, Undersecretary of the Omani Ministry of Culture, Sports and Youth for Sports and Youth, and together discussed ways to promote cooperation between ICESCO and the Sultanate of Oman in the fields of building youth's capacities, preparing them for the jobs of tomorrow, and capitalizing on sports to anchor the values of coexistence, peace and civilizational dialogue.
At the beginning of the meeting, held on Monday, May 22, 2023, at the headquarters of the Omani Ministry of Culture, Sports and Youth in the capital Muscat, Dr. Al-Malik highlighted ICESCO's vision and strategic orientations, and shed light on the programs and projects implemented in its areas of competence. He added that the Organization adopts an open-door policy with all parties in service of its Member States and Muslim communities around the world, and focuses on building and supporting the capacities of youth and women.
Moreover, the DG stated that the Organization attaches special importance to sports, and takes the initiative to organize several sports activities and cooperate with international bodies to capitalize on sports to develop educational and cultural fields. Dr. AlMalik seized the opportunity to invite Omani athletes to participate in the activities organized by ICESCO.
For his part, Mr. Al-Rawas highlighted the Ministry's working mechanisms and the cultural contests it organizes in cooperation with sports clubs to encourage young people and involve them in the cultural movement in the Sultanate of Oman. He added that the Ministry also works on training young people in the cultural fields including poetry, drawing and music, stressing the Ministry's keenness to strengthen cooperation with ICESCO.
The two parties discussed cooperation proposals for the next period and agreed to continue coordination to sign a cooperation agreement between ICESCO and the Ministry based on specific programs and projects to be implemented jointly.
The meeting was attended by Amb. Khaled Fathalrahman, Head of ICESCO Center for Civilizational Dialogue, and Dr. Salim Al-Habsi, Director of Programs at the General Secretariat of National Commissions and Conferences at the Organization.