ICESCO DG meets Deputy Secretary-General of the United Nations in New York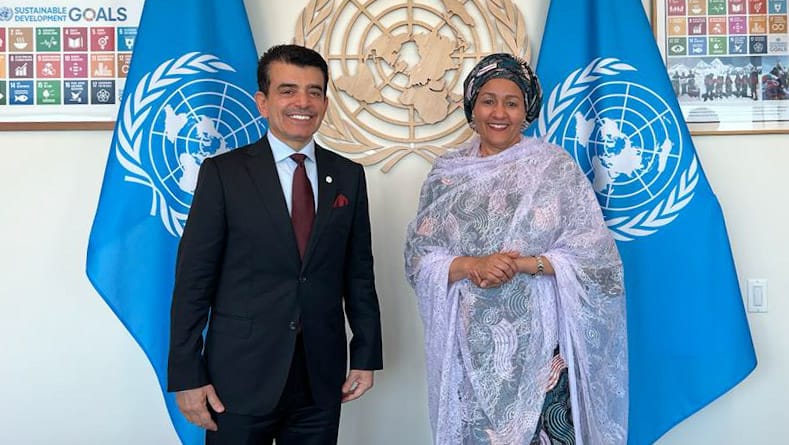 22 April 2023
Dr. Salim Al-Malik, Director General of the Islamic World Educational, Scientific and Cultural Organization (ICESCO), met with Ms. Amina Mohammed, Deputy Secretary-General of the United Nations and Chair of the United Nations Sustainable Development Group. The two parties discussed a number of issues of common interest, namely expanding Sustainable Development Goals (SDGs 2030) to embrace broader areas and keep pace with the changes taking place in the world.
During the meeting, held on Thursday (April 20, 2023) in New York, with the presence of Dr. Raheel Qamar, Head of the Science and Technology Sector at ICESCO, Dr. Mohamed Sharif, Advisor in the Sector, and assistants to the Deputy Secretary-General of the United Nations, Dr. AlMalik reviewed the most prominent programs and projects implemented by ICESCO geared at supporting women and entrepreneurship, building youth capacities, and training them in leadership for peace and security.
He also reviewed the Organization's participation in the World Climate Summit, which was held in Sharm el-Sheikh, as well as its active participation in the United Nations Education Transformation Summit in New York.
ICESCO DG pointed out the Organization's action in the field of modern technologies, and the importance of including them in education and in SDGs, in which technology is not adequately present.
The meeting also touched upon the importance of including culture in SDGs.
The Deputy Secretary-General of the United Nations invited ICESCO to participate in the United Nations Summit on Sustainable Development Goals, due to be held in September 2023 in New York.
The two sides also discussed ways to support and promote education, science and culture in Afghanistan, which was recently visited by the Deputy Secretary-General of the United Nations.
At the end of the meeting, Dr. Al-Malik invited Ms. Amina Mohammed to visit ICESCO headquarters in Rabat, and the International Exhibition and Museum of the Prophet's Seerah and Islamic Civilization, whose first edition outside the Kingdom of Saudi Arabia is being hosted by the Organization, in partnership with the Muslim World League and Muhammadia League of Scholars. ICESCO DG presented her with a commemorative shield bearing the Organization's logo.