ICESCO launches its Programme "Mishkat Pioneers" for benefit of Arabic language students speaking other languages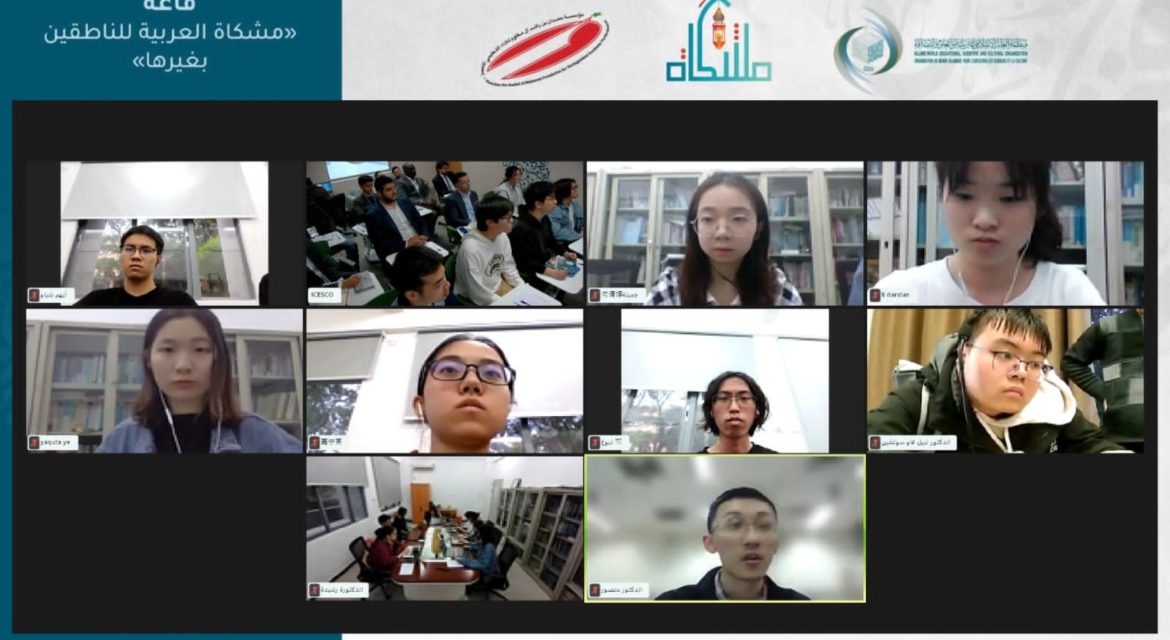 23 March 2023
The Islamic World Educational, Scientific and Cultural Organization (ICESCO) launched its new programme "Mishkat Pioneers" under the theme "Let us express in Arabic the diversity of our cultures" for the benefit of Arabic language students speaking other languages, within the framework of "Mishkat Al-Arabiya for Non-Arabic Speakers."
The programme, launched in cooperation with Hamdan Bin Rashid Al Maktoum Foundation for Distinguished Academic Performance, aims to introduce the various roles that ICESCO plays in many fields, including the field of Arabic for non-Arabic speakers, to enable non-Arab students studying Arabic in Moroccan universities to discover different work environments of international organizations by hosting them at the Organization headquarters.
In the first activity of the programme, Dr. Abdelilah Benarafa, Deputy Director-General of ICESCO, received several Chinese students studying Arabic at the Faculty of Arts at Mohammed V University, in Rabat, where he presented an overview of ICESCO's vision, its action strategy and the roles it plays in consolidating the values of excellence and innovation, and the attention it attaches to the Arabic language as a language of dialogue and acquaintance.
After that, "Mishkat Al-Arabiya Hall" hosted an educational and cultural forum, which saw the participation of Chinese students as well as a number of professors via videoconference, from the College of Oriental Languages at Shanghai University for International Studies, the University of Foreign Studies in Guangdong, and the University of Languages and Culture in Beijing. The representatives of ICESCO's sectors, departments and centers explained the working mechanism of the Organization and its major programmes and projects for the benefit of Member States.
In the discussion session moderated by Mr. Adel Bouraoui, Advisor to ICESCO Director-General for External Centers and University Chairs in the field of Arabic Language, the Chinese professors and students expressed their great appreciation for ICESCO's initiative to launch this programme, and called for building continuous cooperation relations between ICESCO and Chinese universities.