ICESCO and Pakistan Space Agency Sign Joint Cooperation Agreement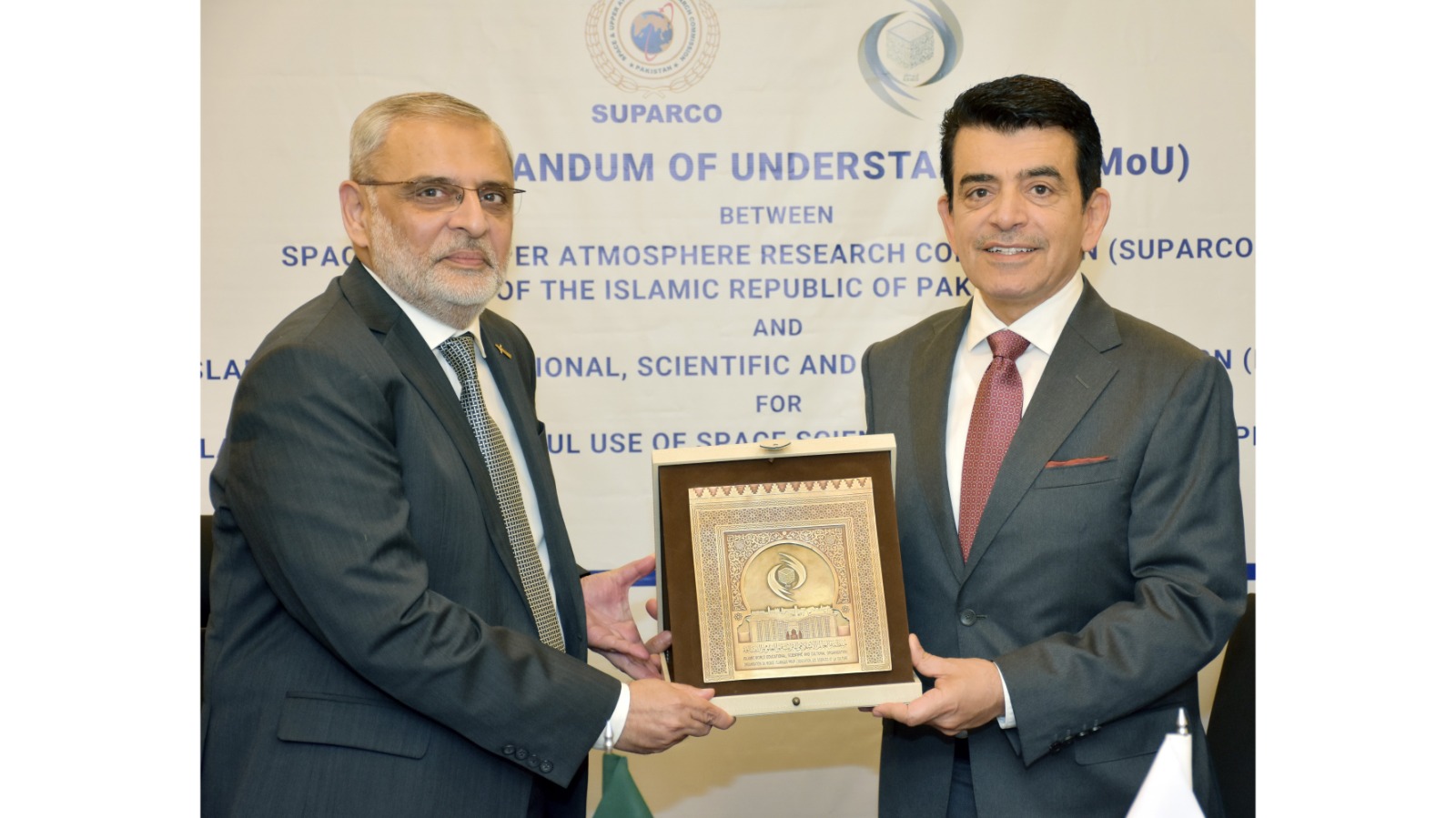 21 March 2023
As part of its efforts to encourage its Member States in investing in the field of space science and its applications, keeping pace with the great boom in this field and contributing to building a prosperous future for the Islamic world, the Islamic World Educational, Scientific and Cultural Organization (ICESCO) signed a cooperation agreement with Pakistan's Space & Upper Atmosphere Research Commission (SUPARCO), which is one of the leading institutions in the field of space science internationally, to support and strengthen the partnership in developing programs, projects and workshops in the fields of scientific research, modern technologies and space technology.
Dr. Salim M. AlMalik, ICESCO Director General (DG), and Major General Amer Nadeem, SUPARCO Chairman, signed the agreement on Monday, March 20, 2023, in Islamabad, Islamic Republic of Pakistan.
During the signing ceremony, Dr. AlMalik commended the importance of the agreement between ICESCO and SUPRACO, stressing that the Organization accords special importance to encouraging its Member States to invest in the field of space science and its applications, signing several agreements to exchange experiences and knowledge related to space science and organizing many training sessions for the youth of the Islamic world to design Model Satellite (Cansat).
For his part, Major General Amer Nadeem noted that this agreement is in line with the Agency's mission, which consists of developing space science and technology, as well as youth's capacities and their integration in the field, to contribute to achieving economic and social development in Pakistan.
The Agreement terms provide for cooperation between the two parties in supporting the skills development of professionals in the field of space science, building the capabilities of technicians through practical training sessions, holding training sessions for students, and promoting research, innovation and entrepreneurship in the field of science, and jointly organizing conferences, seminars and workshops.
SUPRACO was established in recognition of the importance of space science and technology applications for sustainable national development. Through its various departments, the Agency conducts research to develop the field of space science and technology and its applications for peaceful purposes and social and economic development by relying on its latest research and development technologies in the field of space science and its applications, as well as the design and manufacture of satellites.