ICESCO and Al-Azhar Al-Sharif sign cooperation agreement in education and culture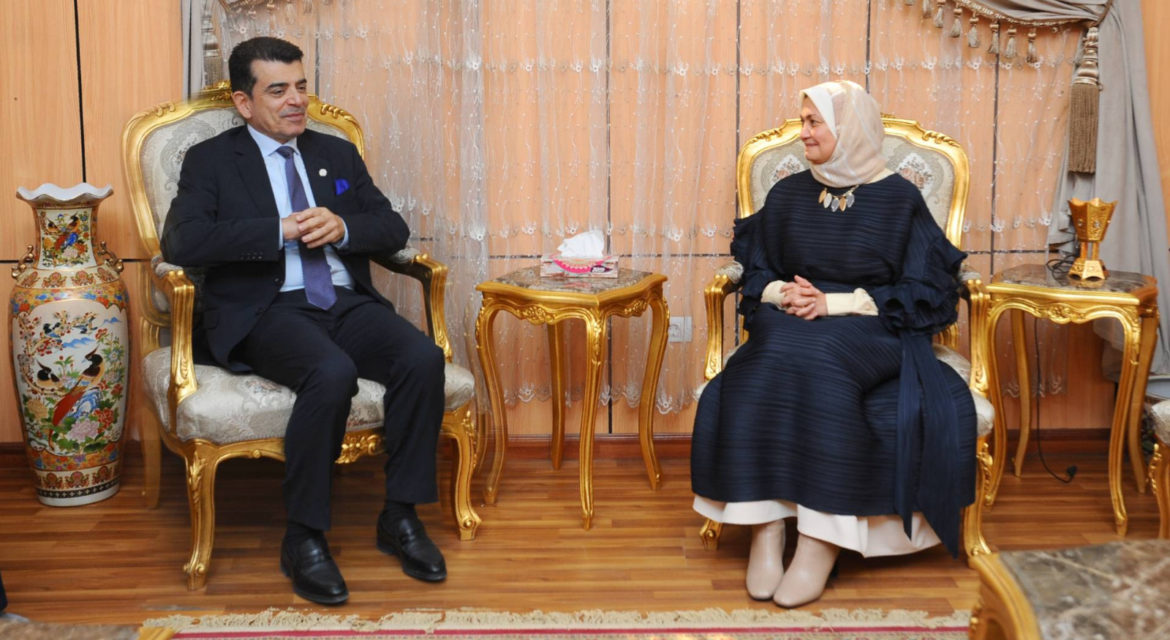 11 March 2023
The Islamic World Educational, Scientific and Cultural Organization (ICESCO) and the Center of Education Development for Envoys and Foreign Students at Al-Azhar Al-Sharif in Egypt signed an agreement aimed at promoting academic, artistic and technological cooperation in the areas of education and culture, and providing scholarships in Al-Azhar Al-Sharif for students from the Islamic world.
Ms. Amira Elfadil, Head of ICESCO's Partnerships and International Cooperation Sector, and Dr. Nahla Al-Saeedi, Advisor to the Sheikh of Al-Azhar Al-Sharif for Expatriate Affairs, Head of the Center, signed the cooperation agreement on Friday, 10 March 2023, at the Center's headquarters in Cairo, in the presence of Dr. Salim M. AlMalik, ICESCO Director-General (DG).
Following the signing ceremony, Dr. AlMalik conveyed his thanks to His Eminence, the Grand Imam, Dr. Ahmed At-Tayyeb, Sheikh of Al-Azhar Al-Sharif, for keeping his promise and providing scholarships for the Islamic world's youth in the prominent scientific edifice.
In a phone conversation with ICESCO DG, Sheikh At-Tayyeb praised the distinguished cooperation between Al-Azhar Al-Sharif and ICESCO, expressing his keenness to promote partnership in building the capacities of young people and offering them scholarships.
Dr. Al-Saeedi noted that this agreement is a major boost to the partnership between the two parties, stressing that the Center signed this agreement to assist and meet the needs of foreign students in cooperation with ICESCO, an Organization which strives relentlessly to advance education in its Member States.
The cooperation agreement provides for the allocation of several scholarships at Al-Azhar Al-Sharif for the Islamic world's youth, the establishment of an ICESCO Chair for teaching Arabic to non-Arabic speakers, the promotion and teaching of Arabic calligraphy in ICESCO's Member States, and the joint organization of conferences, seminars, training sessions and workshops. The agreement also provides for the development of a school curriculum presenting the true image of Islam, promoting the rich culture and civilization of the Islamic world, and celebrating its luminaries and their valuable contributions. The two parties endeavor, through this cooperation agreement, to support projects which are geared towards translating books on heritage, culture and religion, and reinforce the role of media and communication in anchoring the values of tolerance and moderation.
Before the signing ceremony, Dr. AlMalik and Dr. Al-Saeedi held a meeting to discuss mechanisms for implementing the agreement and fostering cooperation in the next phase and agreed on establishing a joint committee responsible for following up on the agreement's implementation.
ICESCO DG reviewed the main thrusts of the Organization's vision and strategic orientations, as well as its key programs and initiatives.
For her part, Dr. Al-Saeedi reviewed the Center's efforts to assist foreign students from 137 countries in solving any issues they may encounter.
At the close of the meeting, Dr. Al-Saeedi presented Dr. AlMalik with the shield of the Center along with various publications.