ICESCO Director-General meets the Saudi Minister of Education in Riyadh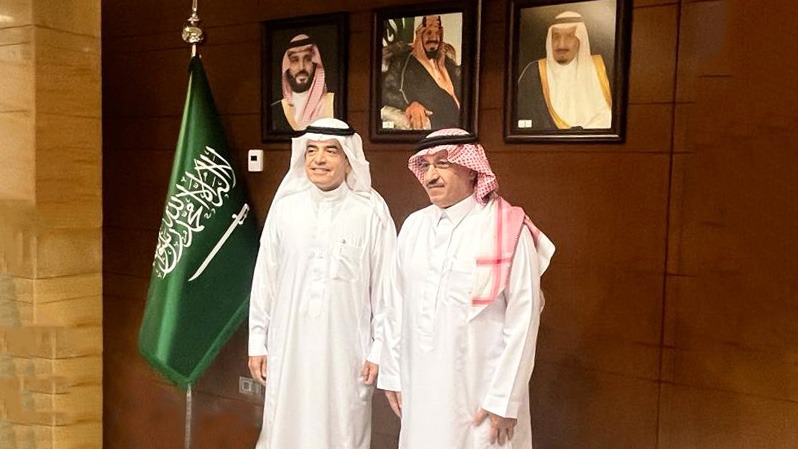 7 March 2023
Dr. Salim M. AlMalik, Director-General of the Islamic World Educational, Scientific and Cultural Organization (ICESCO), and Mr. Yousef Bin Abdullah Al-Benyan, Minister of Education in the Kingdom of Saudi Arabia, discussed ways to enhance cooperation between ICESCO and the Ministry in supporting open education and contributing to the development of educational systems through modern technologies.
During the meeting, held on Monday (March 6, 2023), at the headquarters of the Ministry of Education, in Riyadh, in the presence of several ICESCO officials, Dr. AlMalik reviewed the mainlines of the Organization's vision and strategic orientations in the field of education, and its programs and projects for the benefit of Member States through coordination and cooperation with the National Commissions for Education, Science and Culture.
He also underscored the importance of coordination and cooperation between ICESCO and the Saudi Ministry of Education and implementing joint programs, especially in developing educational systems in Muslim countries through modern technology applications, stressing ICESCO's endeavor to meet the needs of its Member States to contribute to achieving sustainable development in its areas of competence.
For his part, the Saudi Minister of Education welcomed the visit of ICESCO Director-General and his delegation, commending the cooperation between the Organization and the Ministry and the endeavor to develop their partnership.
He also stressed the importance of designing programs and projects to achieve sustainable development goals, ensure quality and excellence in education, use e-learning and open educational resources as well as modern educational technologies, enhance the skills of young teachers and build their leadership capacities, update teaching methods, integrate the culture of peace and civilizational dialogue in educational curricula, and publicize and promote the cultural heritage of Muslim countries.
Mr. Al-Benyan praised the organizational structure and governance of ICESCO, stressing the Ministry's willingness to support ICESCO's activities and projects.
During the meeting, ICESCO officials reviewed the major current initiatives, programs and projects of the Organization, including building the capacities of youth, women and vulnerable groups, and encouraging scientific research through the establishment of ICESCO academic chairs in prestigious universities, in addition to ensuring quality education for all.
The two parties agreed to sustain cooperation to implement future programs and projects, in coordination with the Saudi National Commission for Education, Culture and Science.
In conclusion, the ICESCO Director-General and the Saudi Minister of Education exchanged honorary shields.