ICESCO and Sultan bin Abdulaziz Al Saud Foundation sign MoU for cooperation in field of Arabic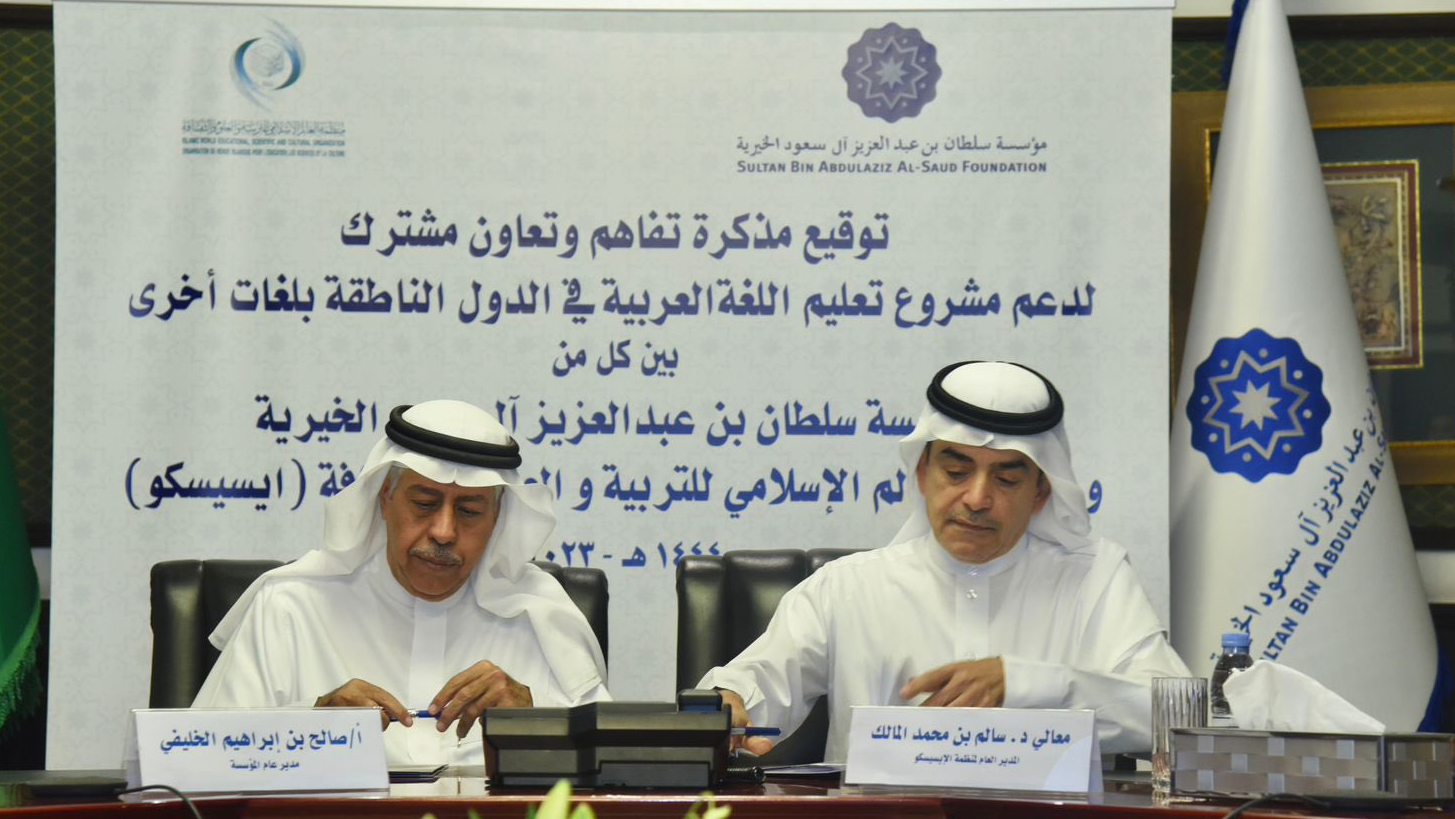 7 March 2023
The Islamic World Educational, Scientific and Cultural Organization (ICESCO) and the Sultan bin Abdulaziz Al Saud Foundation in the Kingdom of Saudi Arabia signed a Memorandum of Understanding (MoU) for cooperation in supporting the project of Arabic education in non-Arabic speaking countries by enhancing the performance of Arabic teachers, increasing investment in educational technologies and stimulating Arabic publications in non-Arab universities.
The MoU was signed on Monday, 6 March 2023, at the Foundation's headquarters in Riyadh, by Dr. Salim AlMalik, ICESCO Director-General (DG), and Mr. Saleh Al-Khulaifi, Director-General (DG) of the Foundation, in the presence of a host of officials from both Organizations.
Dr. AlMalik then expressed his delight at signing the MoU which marks the beginning of a strategic partnership aimed at spreading the Arabic language and promoting its global prominence. Mr. Al-Khulaifi praised the MoU, underscoring the Foundation's keenness to promote cooperation with ICESCO across all areas of the Organization's competence.
Prior to the signing ceremony, Dr. AlMalik and Mr. Alkhulaifi chaired an expanded meeting that brought together several officials from both Organizations to explore ways for promoting cooperation between the two Organizations in areas of common interest.
During the meeting, ICESCO DG reviewed the Organization's efforts to further promote the Arabic language at the international level, namely through the establishment of the Center of Arabic for Non-Arabic Speakers, the implementation of the "Mishkat" Programme for Professional Development and Continuous Training, in addition to supporting national projects and international initiatives geared towards teaching and spreading the Arabic language.
For his part, Mr. Al-Khulaifi commended ICESCO's roles in promoting Arabic globally and reviewed the Foundation's key activities, programmes and areas of work, noting the key achievements of the Foundation's Sultan Bin Abdulaziz Humanitarian City (SBAHC).
At the close of the meeting, the two parties exchanged honorary shields in appreciation of the commendable efforts exerted by their respective Organizations to advance their areas of work.