High-Level Meeting to Discuss Cooperation Developments between ICESCO and ABEGS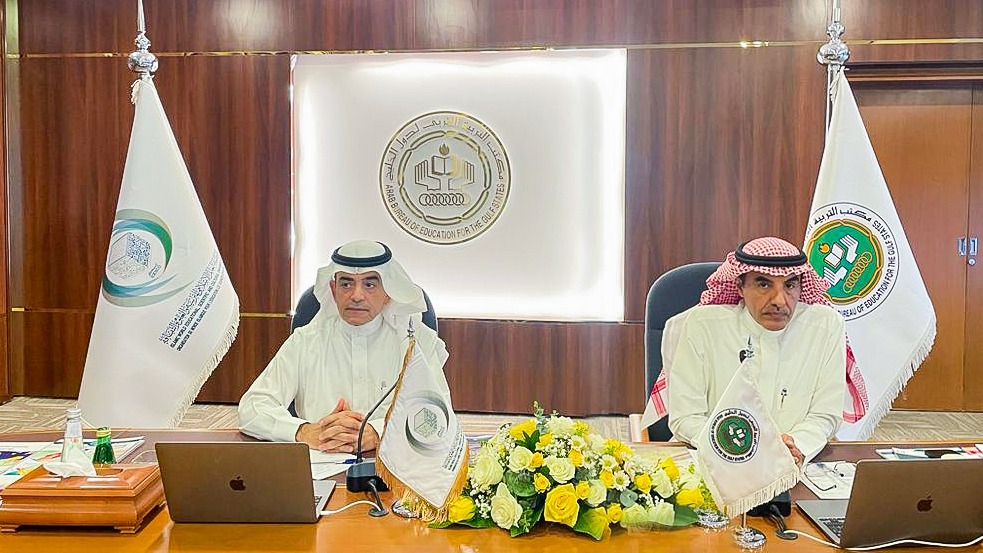 6 March 2023
Dr. Salim M. AlMalik, Director General (DG) of the Islamic World Educational, Scientific and Cultural Organization (ICESCO), and Dr. Abdulrahman Al-Assimi, Director General of the Arab Bureau of Education for the Gulf States (ABEGS), chaired a meeting between the Organization and the Bureau to discuss cooperation developments and to develop a partnership, especially in educational fields, open education, publications, publishing and translation.
During the meeting, which took place on Sunday, March 5, 2023, at the Bureau's headquarters in the Saudi capital, Riyadh, in the presence of several ICESCO's Heads of Sectors and Directors of Departments, as well as ABEGS officials, Dr. AlMalik valued the great cooperation between the Organization and the Bureau and the continuous coordination between them to achieve common goals, noting ICESCO's eagerness to strengthen and develop this cooperation to keep pace with the major changes in the fields of modern technology and its applications.
ICESCO's DG reviewed the main aspects of the Organization's vision and its strategic orientations in the field of education, to contribute to the development of educational systems in its Member States, especially in the areas of educational technologies and the use of artificial intelligence to achieve quality and excellence in education, following the fourth goal of sustainable development, represented in ensuring inclusive and equitable quality education and promoting lifelong learning opportunities for all.
For his part, Dr. Al-Assmi commended ICESCO's efforts in supporting its Member States in the fields of education, noting the cooperation between the Organization and Bureau, and the importance of sustaining coordination and communication to define the priorities of Member States and implementing joint programs that meet the needs of these states.
During the meeting, ICESCO's Heads of Sectors and Directors of Departments reviewed the key initiatives, programs and projects that the Organization is currently implementing, including those related to building youth capacities in the areas of innovation and applications of modern technology, supporting professionals in the educational field through training and awarding international professional certificates in teaching, contributing to the development of education systems, ensuring the right to education for all without gender discrimination and consolidating the concept of lifelong learning.
At the close of the meeting, the two parties agreed to maintain coordination and set schedules for implementing joint future programs, projects and activities. A joint work team was formed from ICESCO and ABEGS to review and examine these programs and projects to sign a cooperation agreement in this regard during the next meeting between the Organization and the Bureau in Rabat to be determined at a later date.