ICESCO and SIH Examine Cooperation Prospects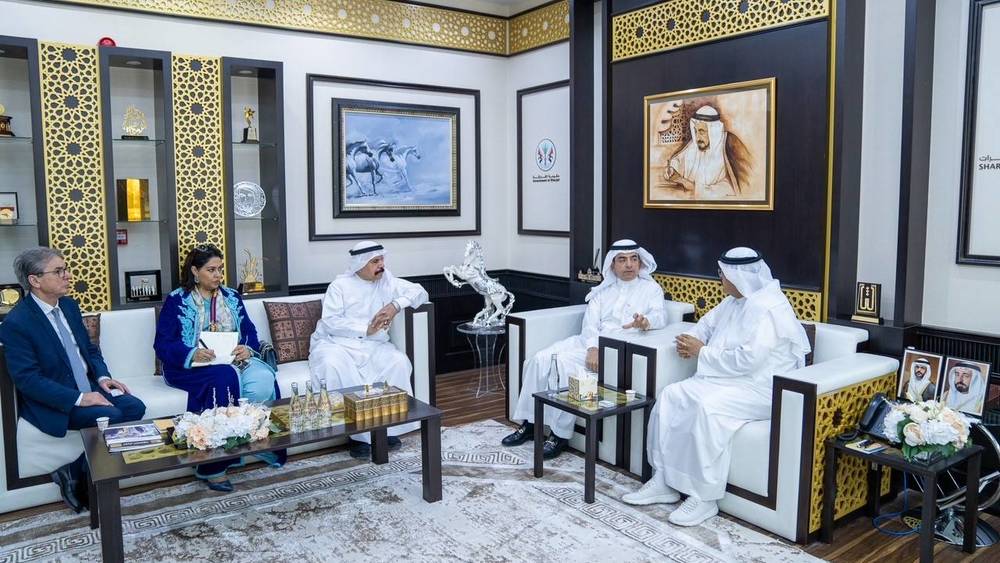 1 March 2023
Dr. Salim M. AlMalik, Director-General (DG) of the Islamic World Educational, Scientific and Cultural Organization (ICESCO), and Dr. Abdulaziz Al-Musallam, President of the Sharjah Institute for Heritage (SIH), discussed cooperation prospects between ICESCO and the Institute in the field of heritage preservation and valorization.
During his visit to SIH, on Tuesday, February 28, 2023, Dr. AlMalik stressed that preserving and valorizing the Islamic world heritage is among ICESCO's top priorities, as part of its vision and strategic orientations, explaining that the Organization has taken many decisions in this regard, mainly the establishment of the Islamic World Heritage Committee (IWHC), which examines the nomination files of historical sites and cultural elements submitted for inscription on the Islamic World Heritage List, the establishment of the Center of Islamic World Heritage, as well as the organization of many training sessions and workshops for capacity building of heritage professionals in its Member States.
For his part, SIH's President welcomed the visit of ICESCO's DG to the Institute's headquarters, where they toured the Institute's facilities, and reviewed SIH's key programs and projects to contribute to preserving the Emirati national identity, safeguarding and documenting heritage and protecting it from destruction.
At the end of the visit, the two parties agreed to sustain coordination during the coming period, to build fruitful cooperation between ICESCO and SIH, through the implementation of several joint programs and projects in the field of preserving and safeguarding heritage.
The visit was attended by Dr. Obaid Saif Al-Hajri, Director of ICESCO's Regional Office in Sharjah, Mr. Najib Rhiati, Cultural Advisor to ICESCO DG, and Ms. Sally Mabrouk, Director of ICESCO DG's Cabinet.
SIH promotes and raises awareness about Emirati heritage and teaches its various elements according to the latest scientific curricula through organizing programs and activities throughout the year, as well as establishing partnerships with various international scientific and cultural bodies and institutions.