ICESCO and China's ISRSS Sign Cooperation Agreement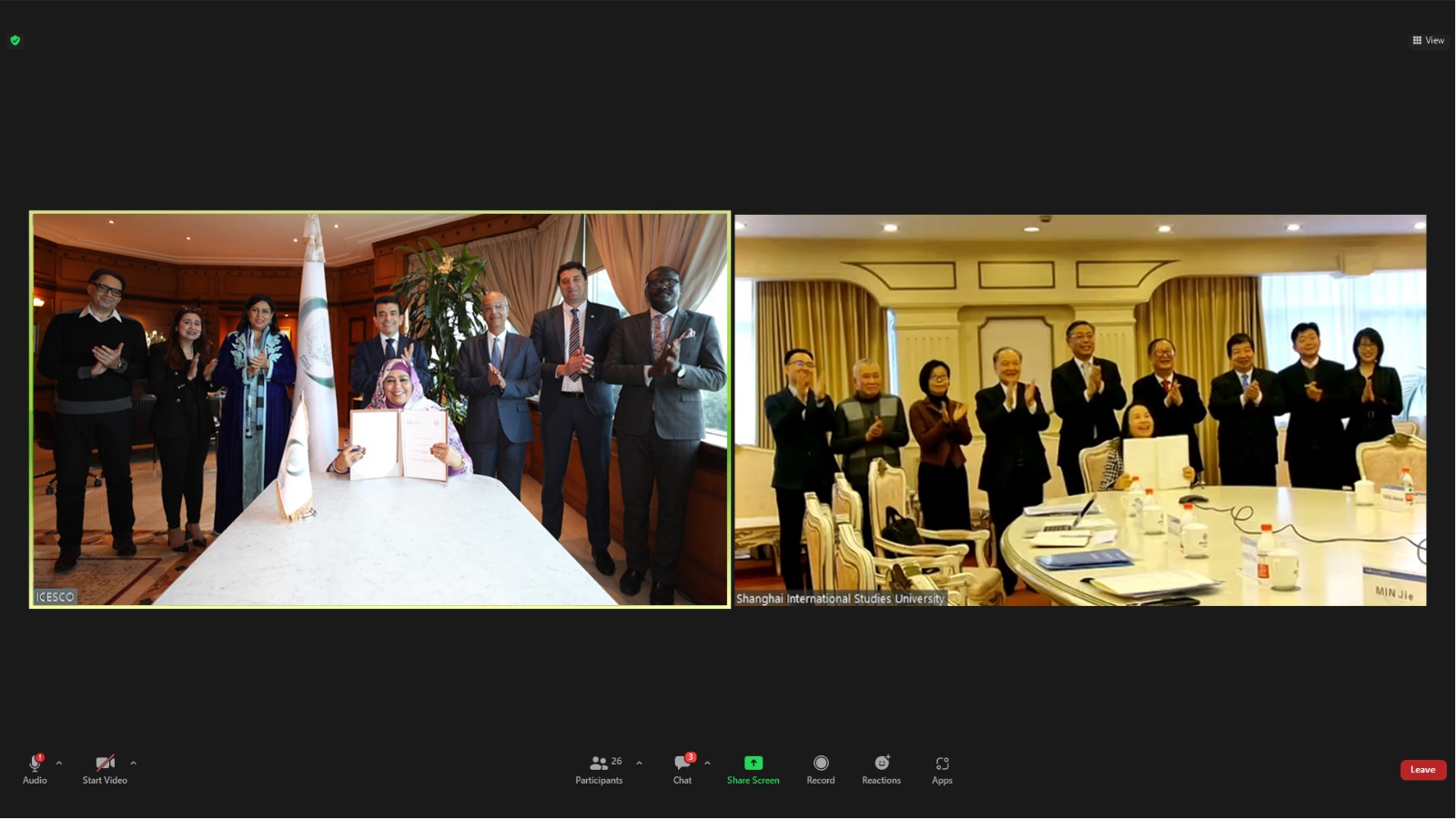 25 February 2023
The Islamic World Educational, Scientific and Cultural Organization (ICESCO) and the Institute of Silk Road Strategy Studies (ISRSS) of the Shanghai International Studies University (SISU) in the People's Republic of China signed a memorandum of understanding and an action plan for cooperation, to promote the values of coexistence, peace and civilizational dialogue, as well as to enhance knowledge in higher education, scientific research and cultural exchange.
In his speech delivered at the signing ceremony on Friday, 24 February 2023, Dr. Salim M. AlMalik, ICESCO Director General, welcomed this strategic cooperation and partnership between the two parties, as part of the Organization's policy of opening up to universities and higher institutes, and its contribution to consolidating the values of peace and tolerance and promoting civilizational dialogue. He also stressed the importance of this partnership in enhancing the Silk Road's historical dimension and achieving coexistence between civilizations.
For his part, Mr. Jiang Feng, SISU Chairman of the Board, expressed his satisfaction with the signing and reviewed the missions of the University and the great importance it accords to youth capacity building and the development of research, through cooperation with its international partners and knowledge networking. He also stated that the Memorandum of Understanding and the Action Plan signed with ICESCO will open up broad perspectives on Chinese civilization for the countries of the Islamic world.
The memorandum and the action plan were signed by Mrs. Amira El Fadil, Head of ICESCO Partnerships and International Cooperation Sector, and Dr. Ma Li Rong, ISRSS Dean, with the attendance of several Heads of Sectors and Departments and Experts of ICESCO, as well as officials of the Institute.
In her speech, Mrs. Amira El Fadil stressed the importance of implementing the terms of the memorandum and the procedures contained in the action plan to achieve tangible results to consolidate the cooperation between ICESCO and the Institute. For his part, Dr. Ma Li Rong reviewed the terms of the memorandum and the areas of cooperation, stressing the Institute's eagerness to sustain this fruitful cooperation with ICESCO.
The memorandum and the plan include setting up a Chair for Silk Road Studies to enrich the civilizational discourse between China and the Islamic world, holding a joint exhibition on Silk Road heritage, international forums and workshops for youth in this field, as well as harnessing modern technology to enhance the educational capabilities of youth in China and ICESCO Member States, in addition to publishing joint articles on Silk Road studies.