ICESCO ChatGPT Symposium discusses Opportunities and Challenges of Artificial Intelligence Platforms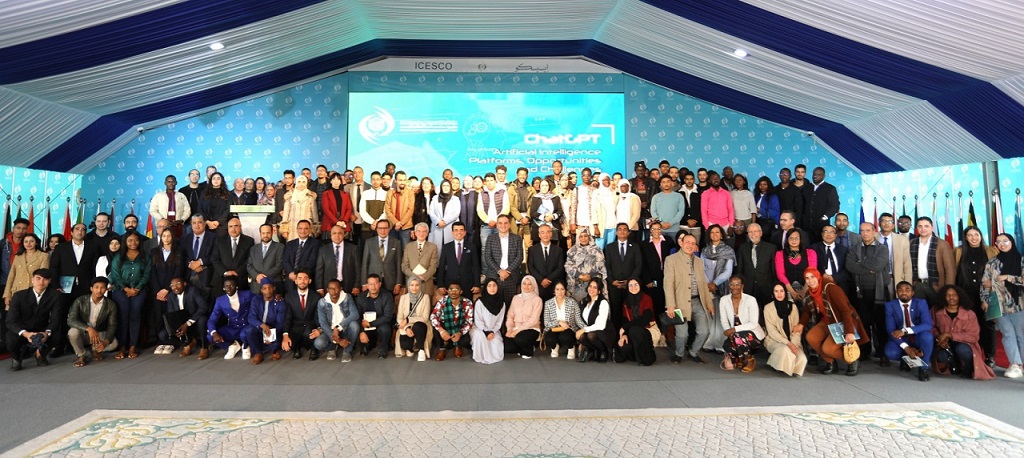 21 February 2023
Rich discussions and anticipatory outlooks on the future marked the high-level scientific symposium held by Islamic World Educational, Scientific and Cultural Organization (ICESCO) on "ChatGPT: Artificial Intelligence Platforms, Opportunities and Challenges." The Symposium discussed how these chatbots can serve humanity and explored their dangers in relation to security and ethical issues.
The Symposium, which saw high-caliber participation including professors, researchers, academics and specialists in the field of artificial intelligence, kicked off today, Monday, February 20, 2023, with the recitation of verses from the Holy Quran. Dr. Salim M. AlMalik, ICESCO Director-General, gave the opening remark where he reaffirmed that ICESCO recognizes the role of AI applications in developing societies and scoring advances in key sectors such as healthcare, education and public safety, calling for using AI's best practices and addressing its challenges.
The Director-General added that this symposium is part of ICESCO's efforts to explore AI applications' opportunities and challenges, especially ChatGPT, as well as their impact on society, noting that ICESCO has launched several programs and projects in this field, notably those pertaining to privacy protection and the fight against cybercrime.
Speaking next, was Dr. Adel Smeda, Expert at ICESCO's Sector of Science and Technology, highlighted the significance of the Symposium in helping understand the fields of AI application and their impact on societies. For his part, Prof. Idris El-Feghi, a Senior AI Scientist at SomaDetect, Toronto, Canada, gave a presentation on "Chat with the Future: The Rise of ChatGPT in AI Technology" where he traced the evolution of AI and discussed ChatGPT's features and potential.
In his presentation, Dr. Paul Théron, Director of the French Aerospace Cyber Resilience (Cyb'Air) Research Chair at Thales Group, talked about the ethics and challenges of human interaction with chatGPT, stating that AI applications are limitless and can simulate the human brain in a myriad of fields.
Dr. Salah Baina, Professor at the National School of Computer Science and System Analysis (ENSIAS) at Mohammed V University in Rabat, Morocco, talked about how AI technology can evolve and learn, which allows it to continuously develop its performance to become more effective in task execution, thus enabling humans to focus on more important issues.
The Symposium's session on "ChatGPT: Opportunities and Challenges," which was moderated by Dr. Mohammed Sharif, Advisor at the Sector of Science and Technology, saw rich discussions on the promising opportunities of this new technology and ways to capitalize on it to achieve sustainable development and improve services. The session also focused on ways to address the challenges of AI technology.
At the close of the Symposium, Dr. Raheel Qamar, Head of the Sector of Science and Technology, presented ICESCO shields to Dr. Idris El-Feghi, Dr. Paul Théron and Dr. Salah Baina.