ICESCO Director-General receives President of Moroccan Supreme Council for Education, Training and Scientific Research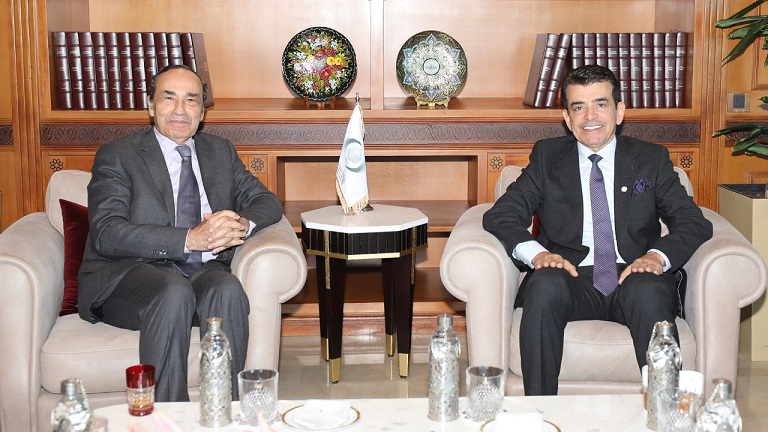 1 February 2023
Dr. Salim M. AlMalik, Director-General of the Islamic World Educational, Scientific and Cultural Organization (ICESCO), received Dr. Habib El Malki, President of the Moroccan Supreme Council for Education, Training and Scientific Research, where they discussed ways and means of strengthening cooperation between ICESCO and the Council in fields of common interest.
During the meeting, held on Monday (31 January 2023), at ICESCO's headquarters, in Rabat in the presence of Dr. Abdelilah Benarafa, ICESCO Deputy Director-General, Dr. AlMalik reviewed the main thrusts of the Organization's vision and strategic orientations as well as its current programmes and projects on women and youth capacity-building and the promotion of innovation and scientific research, exploiting the new technologies in the development of education systems in the ICESCO Member States, training educational staff and strengthening the presence of Arabic worldwide.
The meeting also discussed cooperation proposals aimed at establishing a partnership between ICESCO and the Council. In this connection, ICESCO Director-General reaffirmed the Organization's willingness to cooperate with all parties to contribute to the modernization of education, science and culture in the Member States.
For his part, Dr. El Malki stressed the importance of building a partnership between ICESCO and the Council, commending the remarkable new momentum and modernization in the Organization over the past three years as well as its adoption of advanced working mechanisms.
At the end of the meeting, the two parties agreed to continue coordination to draw a partnership agreement, including specific programs, projects and action plans.
At the end of the meeting, ICESCO Director-General took the President of the Council and his delegation on a tour of the pavilions and sections of the International Exhibition and Museum of the Prophet's Seerah and Islamic Civilization.