Massive Turnout at ICESCO's Pavilion at Peace City World Exhibition in Spain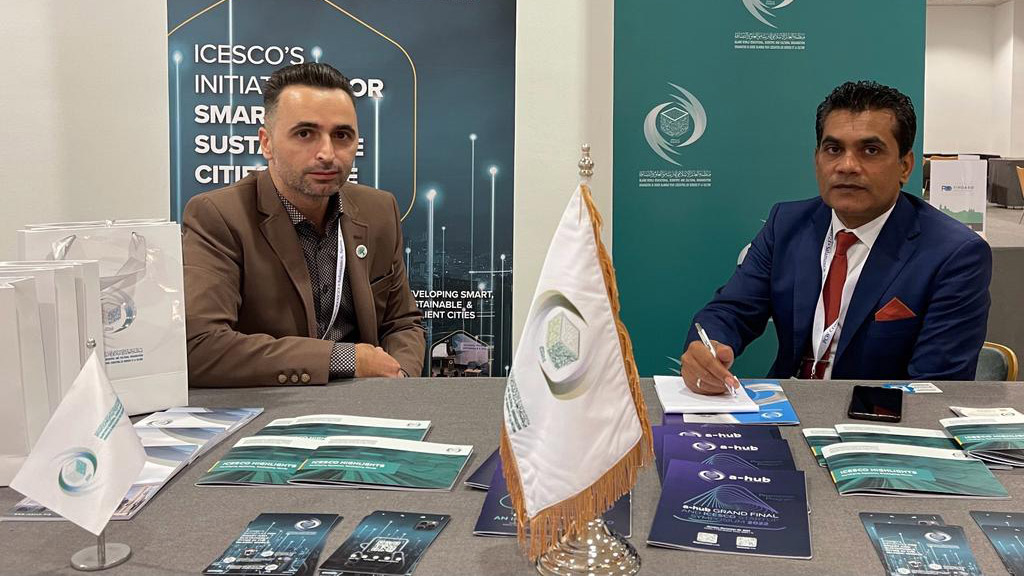 27 January 2023
The pavilion of the Islamic World Educational, Scientific and Cultural Organization (ICESCO) at the Peace City World Exhibition 2023 saw a large turnout of visitors to the exhibition, which is organized by the Peace City World Foundation, in Salamanca, Spain, on the sidelines of its annual congress, with the participation of several international organizations and bodies, regional organizations, civil society organizations, environmental activists, and representatives of the private sector in the areas of innovation and smart cities.
ICESCO's pavilion in the five-day exhibition, which concluded its activities on Friday, January 27, 2023, included the Organization's key publications in the fields of innovation, scientific research, environmental protection and building smart cities. ICESCO's delegation provided explanations to the visitors about the Organization's most important initiatives, programmes and projects to support its Member States in this field.
ICESCO's participation in the exhibition comes as part of the Organization's vision and strategic orientations to support international efforts to find innovative solutions for protecting the environment, contribute to addressing the negative effects of climate change and promote the concept of smart cities in its Member States.
Dr. Muhammad Sharif, advisor at ICESCO's Science and Technology Sector, held a series of meetings to discuss ways and mechanisms for developing cooperation between ICESCO and several international organizations, institutions and research centers in the field of raising awareness about the concept of smart, flexible and sustainable cities. He also held a meeting with the Escuela Hosteleria of Salamanca to discuss cooperation opportunities in intangible heritage, cultural exchange and halal food practices.