ICESCO and Azerbaijan Sign Joint Action Plan to Implement Several Programs and Projects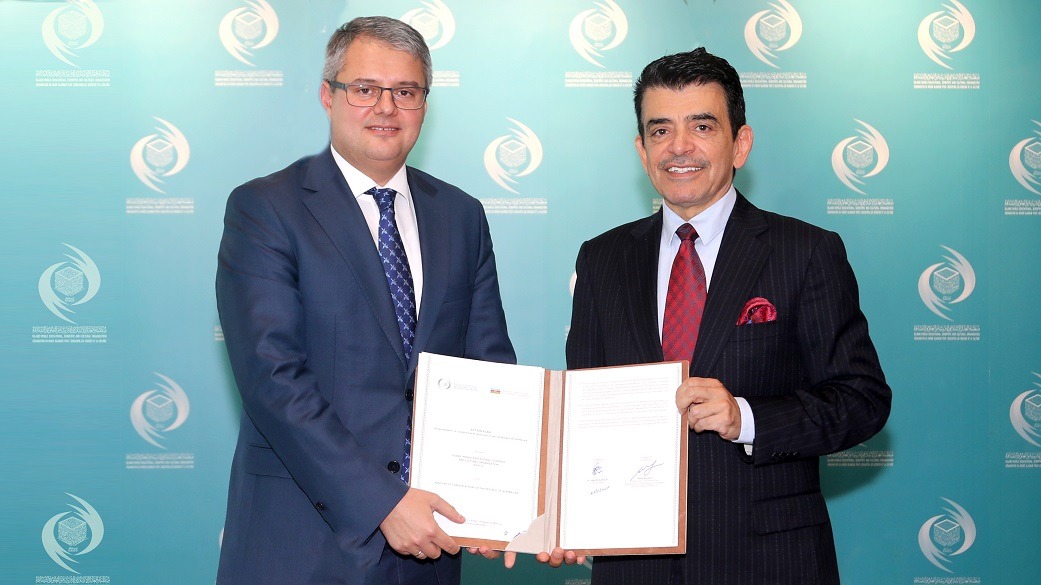 25 December 2022
The Islamic World Educational, Scientific and Cultural Organization (ICESCO) and the Republic of Azerbaijan signed a joint action plan to promote a culture of peace, consolidate the values of tolerance and dialogue among cultures, and protect cultural heritage in the countries of the Islamic world and ensure its sustainability, by supporting the implementation of ICESCO's programs and projects.
The Action Plan was signed on Saturday, December 24, 2022, at the Organization's Headquarters in Rabat, by Dr. Salim M. AlMalik, ICESCO Director-General (DG), and Mr. Nazim Samadov, Ambassador of the Republic of Azerbaijan to the Kingdom of Morocco.
In his address at the signing
ceremony, Dr. AlMalik praised the fruitful partnership between ICESCO and the Republic of Azerbaijan, which presents a successful model of relations between the Organization and its Member States, commending Azerbaijan's sustained support for the programs and projects implemented by ICESCO.
ICESCO DG also underscored that this new agreement will help promote the implementation of ICESCO's new vision and support its strategic orientations, which accord special importance to building the capacities of youth and women and honing their leadership skills through training for peace and security. The Director-General also commended Azerbaijan's support for ICESCO's endeavors to safeguard and preserve the tangible and intangible heritage of the Islamic world and anchor the values of coexistence and civilizational dialogue.
For his part, Ambassador Samadov welcomed the signing of the action plan, which reaffirms the support of the Republic of Azerbaijan to ICESCO's programs and projects and its efforts to promote education, science and culture in its Member States.
Through the Action Plan, the two parties agreed to jointly organize the World Forum on Intercultural Dialogue, held biennially in Baku, and recognize the importance of the Global Call for Peace for Culture, launched by ICESCO, the United Nations Alliance of Civilizations and the Azerbaijani Ministry of Culture, within the framework of the activities of the said Forum to promote intercultural dialogue and pool efforts to achieve peace between societies.
The action plan also provides for the support of the Azerbaijani Ministry of Culture to ICESCO's Young Professionals Program, along with the Organization's other programs aimed at protecting cultural heritage sites in the Islamic world and promoting the modernization of the digital infrastructure of ICESCO Headquarters.