ICESCO Director General and Vatican Pope Discuss Cooperation in Promoting Peace, Coexistence and Civilizational Dialogue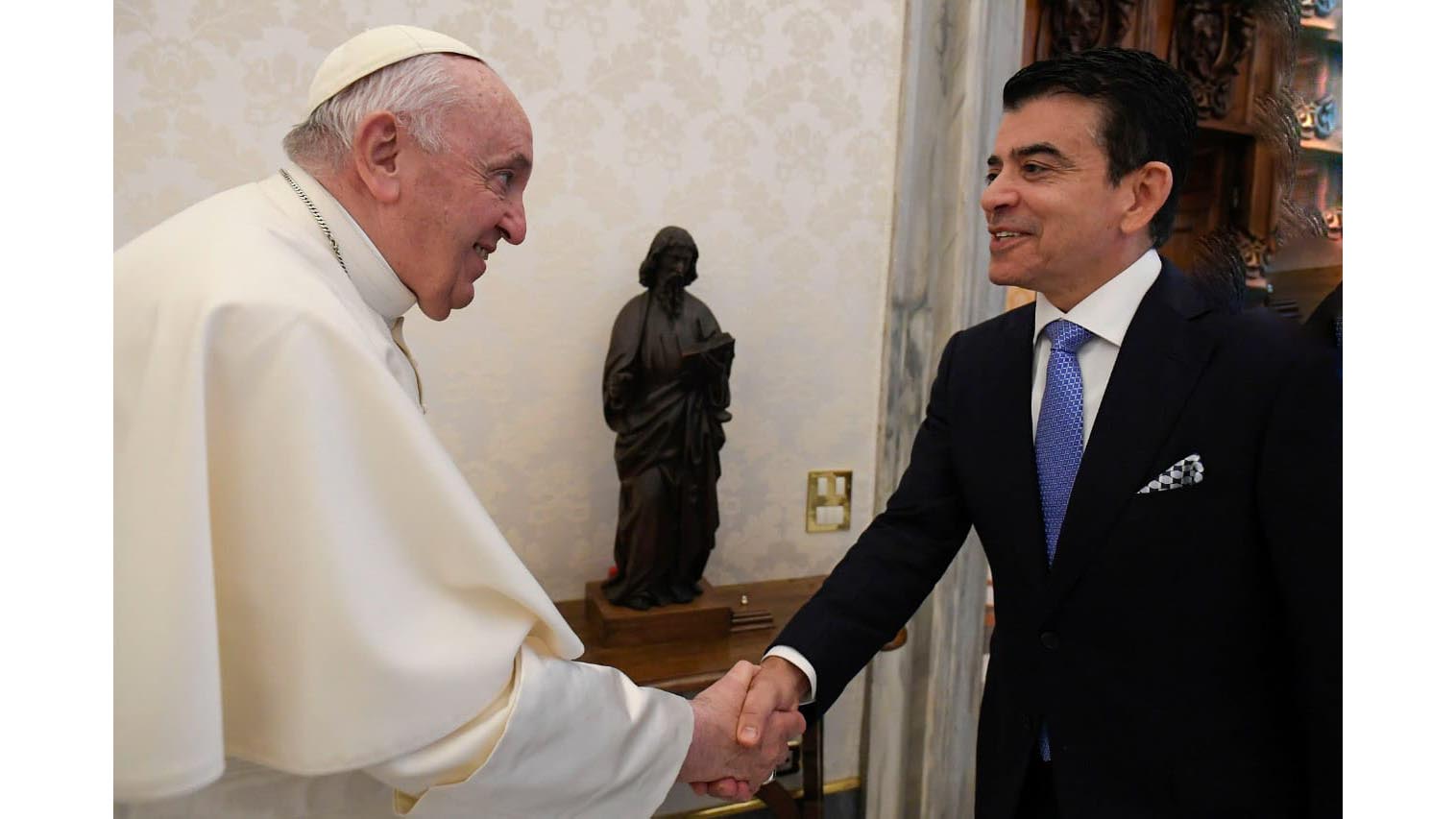 11 December 2022
Dr. Salim M. AlMalik, Director-General of the Islamic World Educational, Scientific and Cultural Organization (ICESCO), and Pope Francis met to discuss cooperation between ICESCO and the Vatican in promoting peace, civilizational dialogue and the values of coexistence and tolerance.
At the start of the meeting, which took place on Saturday, December 10, 2022, in the private library where he holds his official meetings, Pope Francis welcomed Dr. AlMalik and his accompanying delegation. ICESCO's Director-General commended the Pope's role in promoting tolerance and understanding among the followers of different religions and cultures. He emphasized that ICESCO's new vision and strategic orientations place peace-building, co-existence and civilizational dialogue at the core of its priorities and that the Organization is open to cooperation with stakeholders to support the development of the fields of education, science and culture, in a way that serves humanity and helps to address future challenges. This was reflected in the opening of membership for non-member states to join ICESCO as observers, for further cooperation and exchange of experiences with the countries of the Islamic world.
ICESCO's Director-General pointed out that the Organization seeks to achieve its objectives through the launching and implementation of several concrete initiatives, programs and projects with tangible results for the benefit of youth and women in the African continent, including the Leadership Training in Peace and Security Program (80 ICESCO Ambassadors for Peace from Member and Non-Member States have benefited from this program and that the Organization aspires to train 500 Ambassadors by 2025).
For his part, the Vatican Pope expressed particular interest and appreciation for the program, noting the possibility of implementing a joint program between ICESCO and the Pontifical Council for Interreligious Dialogue for training in peace-building and the promotion of the values of brotherhood and tolerance. He also welcomed Dr. AlMalik's proposal to receive a group of young ICESCO Ambassadors for Peace at the Vatican, or during the World Youth Day in Lisbon celebration in July 2023, a year that the Organization will proclaim as the Year of Youth.
ICESCO's Director-General seized this opportunity to present the Organization's shield to the Vatican Pope, as well as a copy of the book "Peace 360: Exploring the Dimensions of Peace," which was recently published by the Organization. For his part, Pope Francis presented Dr. AlMalik with his autographed encyclical letter "All Brothers" and a commemorative medal on the occasion of the tenth anniversary of his appointment.
Pope Francis commended ICESCO's efforts, expressing his willingness to strengthen cooperation between the Vatican and the Organization in consolidating peace and promoting coexistence and civilizational dialogue.
The meeting was attended by Dr. Yahya Pallavicini, ICESCO Goodwill Ambassador, and Ms. Somia Djacta, Head of ICESCO Office at UNESCO.