With High-level Participation… International Conference on Women Leadership in Higher Education Kicks Off at ICESCO Headquarters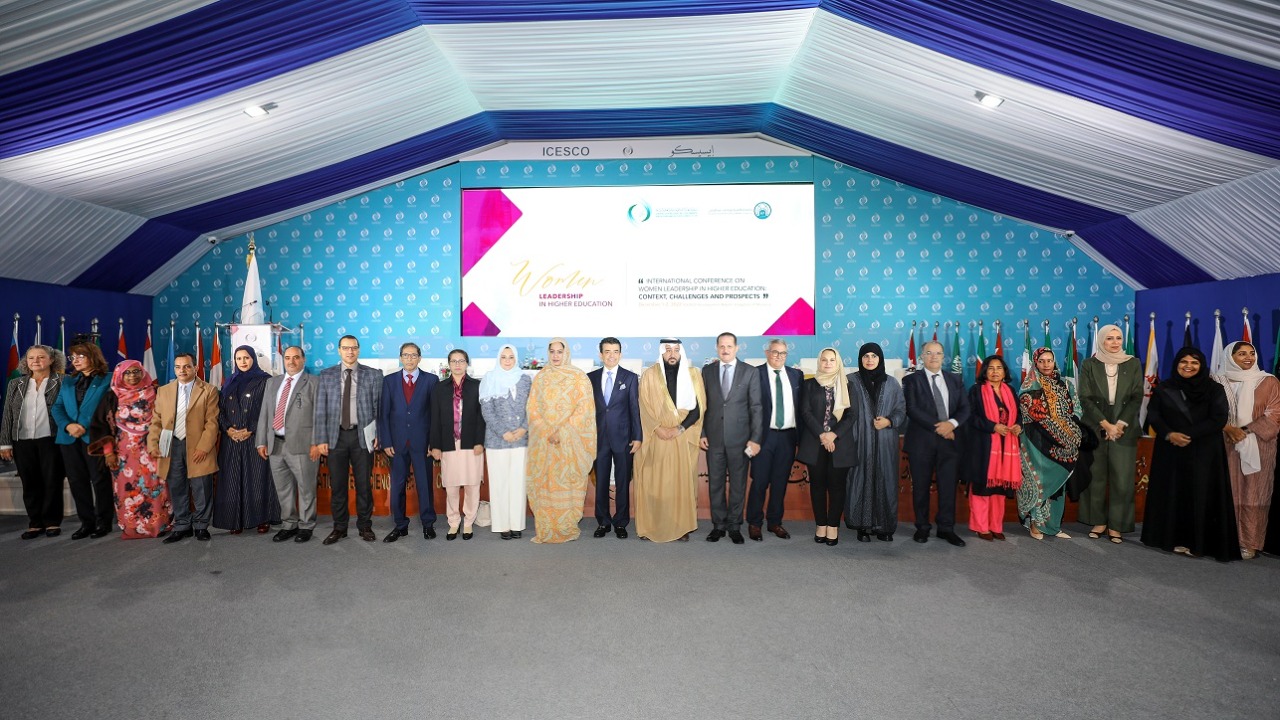 2 December 2022
The International Conference on "Women Leadership in Higher Education: Context, Challenges and Prospects," is being held by the Federation of the Universities of the Islamic World (FUIW), which is affiliated with the Islamic World Educational, Scientific and Cultural Organization (ICESCO), in partnership with Princess Nourah Bint Abdulrahman University, kicked off, on Thursday (December 1, 2022), with high-level participation.
The opening session featured a recitation of verses from the Holy Quran, followed by the address of Dr. Salim M. Al-Malik, ICESCO Director-General, wherein he explained that the Organization, in partnership with Princess Nourah Bint Abdulrahman University, celebrates the leading roles of women in universities, which constitute one of the fields showcasing the efforts and success of women.
He added that when women take the initiative, humanity thrives and progresses. "We are then reassured about the future of the next generations as the great challenges and accelerating transformations require us to be decisive," he stressed.
Moreover, Dr. AlMalik called on women leaders in universities to raise the level of ambition to fulfill the lofty mission of universities and contribute to strengthening the leading role of women, referring to ICESCO's approach to increase the percentage of women in leadership positions to reach 50%, and proclaiming 2021 as the year of women, which was celebrated under the high patronage of His Majesty King Mohammed VI, and saw large participation, adding that ICESCO has implemented many programmes and activities to build women's capacities.
In her address, Dr. Mariem Bint Mohamed Fadel Ould Dah, First Lady of the Islamic Republic of Mauritania, commended ICESCO's keenness to preserve the rich heritage of the Islamic world, stressing that this forward-looking conference is a qualitative addition to enhance the status and position of women through their rehabilitation.
In his address, Dr. Abdellatif Miraoui, Moroccan Minister of Higher Education, Scientific Research and Innovation, delivered on his behalf by Dr. Mohamed El-Khalfaoui, Secretary General of the Ministry, commended ICESCO's efforts to consolidate the foundations of meaningful dialogue in Muslim countries, stressing that the conference is an opportunity to deepen discussion about the status and empowerment of women to assume leadership positions.
For his part, Dr. Yousef Bin Abdullah Al-Benyan, Saudi Minister of Education, in an address delivered on his behalf by Dr. Nasser bin Muhammad Al-Aqili, Undersecretary for Research and Innovation, lauded the organization of this conference and reviewed the initiatives and programmes being implemented in the Kingdom of Saudi Arabia, within the framework of 2030 Vision, which stresses the important role of women in leadership positions.
In his address, Dr. Muhammad Ayman Ashour, Egyptian Minister of Higher Education and Scientific Research, delivered on his behalf by Dr. Ashraf Al-Azazy, Deputy Minister of Higher Education, stressed the need to prepare women for leadership roles given their creative productive energies. He also underscored Egypt's keenness to enhance cooperation with ICESCO in this field.
In her address, delivered through videoconference, Dr. Einas Bint Suleiman Al-Eisa, President of Princess Nourah bint Abdulrahman University, reaffirmed that the rehabilitation of women begins through education, highlighting that the Kingdom's 2030 Vision made a qualitative shift in the life of Saudi women, who have become a key element of the Kingdom's strength, reiterating Saudi Arabia's keenness to develop the talents of women and girls, capitalize on their energies and provide them with appropriate opportunities to build their future and contribute to socio-economic development.
She emphasized that Princess Nourah bint Abdulrahman University, which is the largest women's university worldwide in capacity, number of students, faculty members and disciplines, is one of the examples of this vision.
The conference's first day included two working sessions on "women in university leadership and the future of higher education" and "academia-industry relationship and entrepreneurship for women in higher education."