Launch of New ICESCO 'Mishkat for Arabic Language' Programme for Professional Development and Continuous Training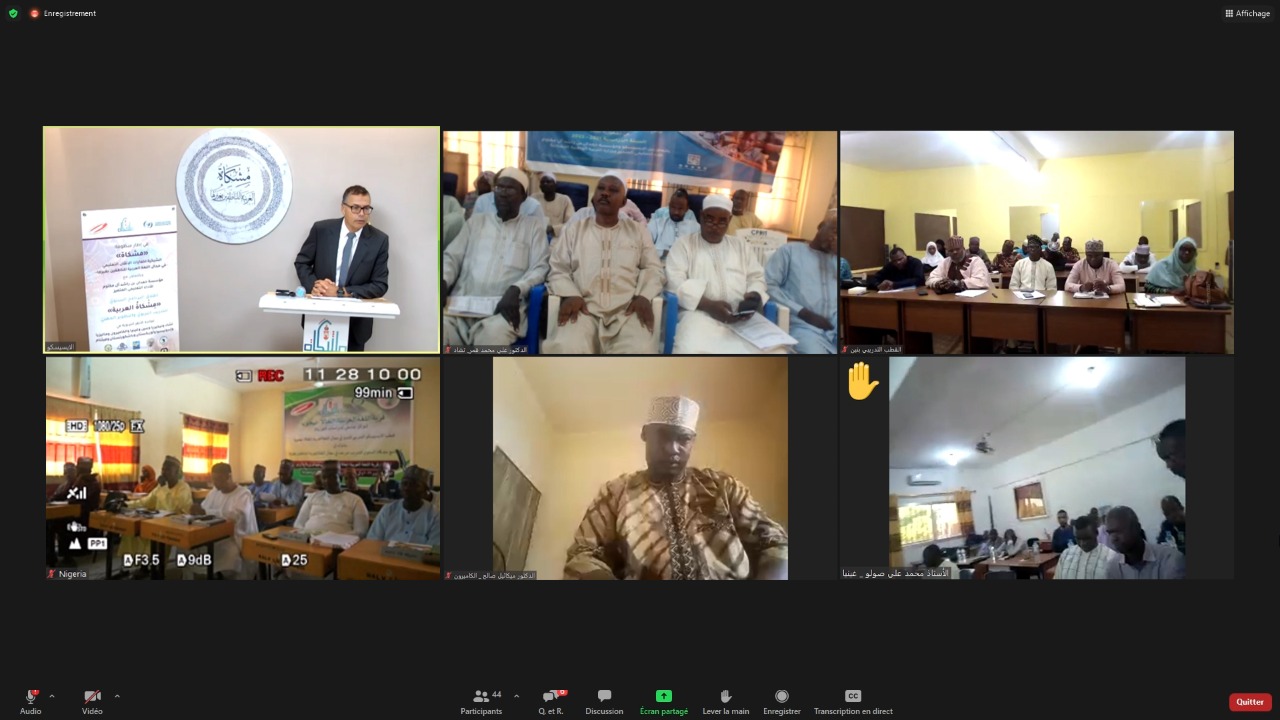 26 October 2022
The Islamic World Educational, Scientific and Cultural Organization (ICESCO) launched its new annual programme "Mishkat for Arabic Language" for professional development and continuous training in the Arabic language for the benefit of non-Arabic speakers, devised in cooperation with the Hamdan Bin Rashid Al Maktoum Foundation for Distinguished Academic Performance.
The programme, which runs for over nine months from October 2022 to June 2023, was launched on Monday, October 24, 2022, by the Organization, through a hybrid meeting in the Mishkat Hall at ICESCO Headquarters. The meeting brought together a host of ten (10) international experts selected to facilitate twenty (20) training sessions as part of the first-time programme that ICESCO provides for teachers of the Arabic language in ten countries of West and Central Africa, Southeast Asia and Central Asia.
In his address at the meeting, Mr. Adel Bouraoui, Advisor to ICESCO Director-General (DG) for External Centers and Academic Chairs on Arabic Language, stressed that the Mishkat Programme is part of the Organization's vision which emphasizes the need to ensure quality, sustainability, innovation and alignment with the needs of Member States.
The Mishkat Hall hosted, on Tuesday, October 25, 2022, the first training session facilitated by the education expert Dr. Mohamed Ismaili Alaoui under the theme: "Skills of Teachers of the Arabic Language to Non-Arabic Speakers" in which five groups of Arabic language teachers from Chad, Nigeria, Benin, Guinea and Cameroon participated remotely, and a sixth group attended in-person. Also participating by videoconference and individually were trainees from other countries and regions. Other individual participants from different countries and regions also took part in the session both remotely and in person.
The session to be held on October 26, 2022, should bring together five groups of Arabic language teachers from Malaysia, Indonesia, Uzbekistan, Bashkortostan and Vietnam.
It is worth noting that the said programme is implemented in concert with ICESCO's Regional Educational Centers, training poles and scientific chairs of Arabic language for non-Arabic speakers in various universities around the world.