Signing Agreement to Establish ICESCO Chair for Developing Arab Education at Guinean General Lansana Conte University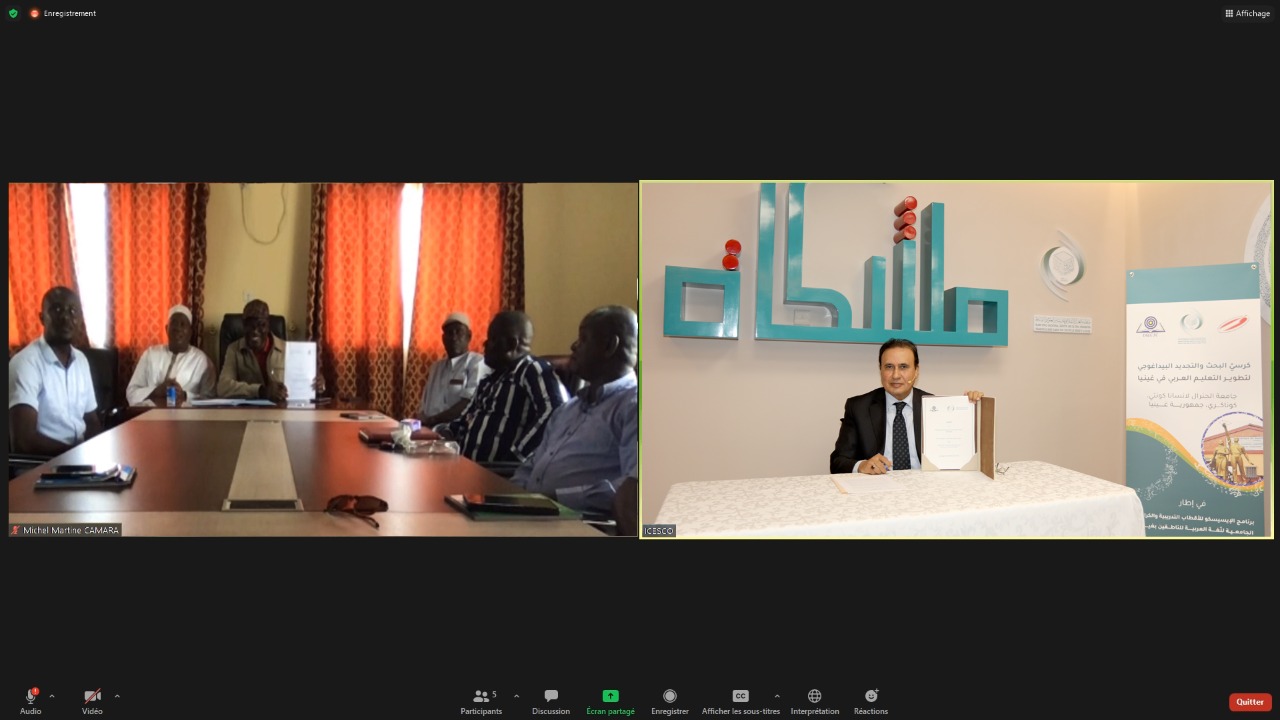 14 October 2022
The Islamic World Educational, Scientific and Cultural Organization (ICESCO) and General Lansana Conte University, Republic of Guinea, signed an agreement to establish a chair for research and pedagogical innovation to develop Arab education at the university in Conakry.
The agreement was signed on Thursday, October 13, 2022, in Mishkat Hall for the Arabic language at ICESCO Headquarters, by Dr. Abdelilah Benarfa, ICESCO Deputy Director General, with the presence of several Heads and Experts in the Organization, and Professor Manga Keita, Rector of the University, on behalf of General Lansana Conte University via videoconference.
The Chair, which comes as part of the cooperation programme between ICESCO and the Hamdan Bin Rashid Al Maktoum Foundation for Distinguished Academic Performance to support the "Project of Teaching Arabic in Non-Arabic Speaking Countries," aims to deepen scientific and educational research on issues of the Arabic language for non-Arabic speakers at General Lansana Conte University and in all educational and scientific research institutions in Guinea, as well as improving the curricula and means of teaching Arabic to non-Arabic speakers in Guinea, taking into account local specificities and strengthening the status of the Arabic language among the foreign languages studied at the University and other Guinean universities.
During the signing ceremony, Dr. Abdelilah Benarfa reconfirmed that the establishment of this chair comes as part of ICESCO's new vision, which calls for optimal investment in the opportunities offered by university chairs specialized in the field of teaching Arabic for non-Arabic speakers, to enhance the roles of universities in deepening scientific, educational and applied linguistic research as well as strengthening partnership and cooperation with Guinea in the academic and educational field, consolidating the status of bilateral education in Guinea and enhancing the values of sustainability and quality in the Organization's action for the benefit of the Member States.
For his part, Professor Manga Keita expressed his overwhelming happiness for the establishment of this chair, which is added to two other university chairs at the University of General Lansana Conte, in response to Guinea's need to develop Arab education, noting that the Arabic language is taught at all stages in the Guinean education system. At the end of his speech, he expressed his gratitude to ICESCO for its efforts to support Arabic education in non-Arabic-speaking countries.