Fresh Start for Partnership between ICESCO and OIC Signing of MoU for cooperation between the Two Organizations to Serve Muslim Countries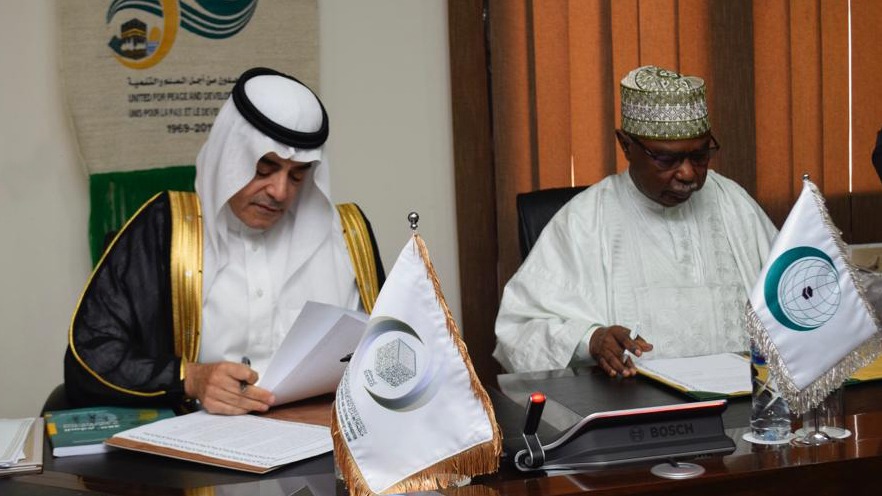 4 October 2022
The Islamic World Educational, Scientific and Cultural Organization (ICESCO) and the Organization of Islamic Cooperation (OIC) signed a memorandum of understanding to set a practical framework for partnership, cooperation, coordination and complementarity between the two parties to better serve Muslim countries in various fields.
Dr. Salim M. AlMalik, ICESCO Director-General, and Mr. Hussein Ibrahim Taha, OIC Secretary-General, signed the memorandum of understanding, on Tuesday (4 October 2022), at the OIC headquarters, in Jeddah, Kingdom of Saudi Arabia, in the presence of several officials, heads of sectors and directors of departments from the two Organizations.
In his statement, OIC Secretary-General reaffirmed that this memorandum of understanding emphasizes the willingness of the two Organizations to promote their partnership for the benefit of Muslim countries, considering that this is a historic day.
He also expressed his sincere thanks and deep gratitude to ICESCO Director-General and his delegation as well as all ICESCO's staff for their outstanding achievements to serve the Member States in the fields of education, science and culture.
For his part, Dr. AlMalik expressed his happiness at the signing of this memorandum of understanding to develop a partnership between ICESCO and OIC, the umbrella Organization, in such a way as to achieve the common objectives of the two Organizations and support the efforts of their Member States in modernizing education, science and culture.
Dr. AlMalik thanked the OIC Secretary-General and all the Organization's staff for the warm welcome and affirmation of the desire to build constructive cooperation with ICESCO.
The memorandum of understanding aims at promoting cooperation and coordination between the General Secretariat of OIC and ICESCO in the implementation of several projects and programmes in the fields of education, science and culture, disseminating, strengthening and preserving the Islamic values based on moderation, tolerance, civilizational dialogue and peace-building, promoting international awareness of Islamic culture, and encouraging scientific research, innovation, technological development and artificial intelligence to lay solid foundations for knowledge societies.
The memorandum of understanding provides for setting up a committee for cooperation and coordination, which will include experts, officials and the heads of the sectors of partnership, cooperation, education, science and culture, to supervise the approved programmes and activities, coordinate, follow up on their implementation and assess their outcomes.