ICESCO chairs closing ministerial session of Mondiacult in Mexico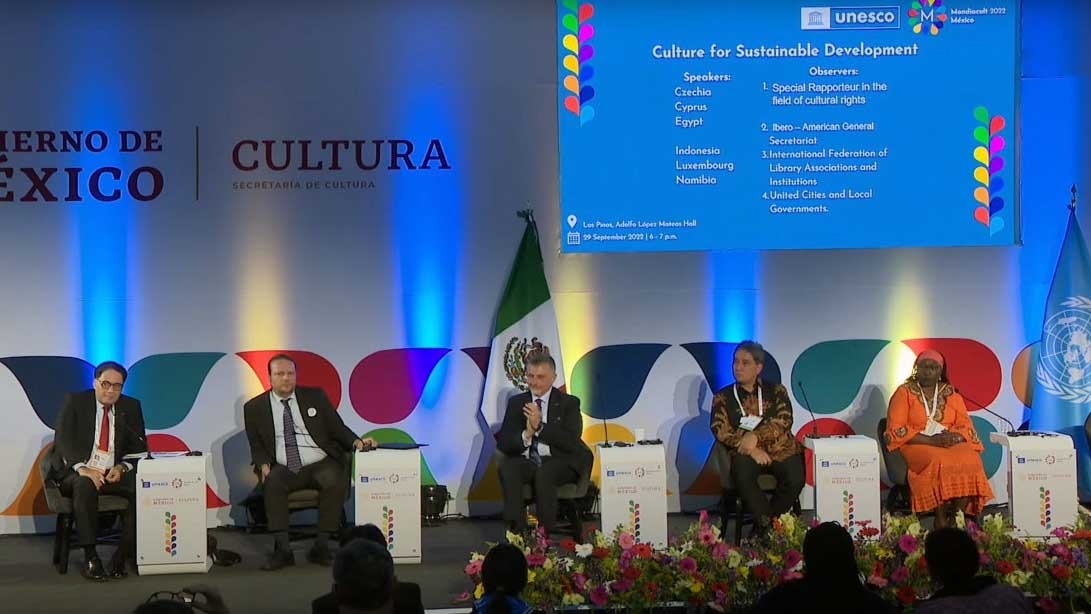 1 October 2022
Dr. Mohamed Zinelabidine, Head of the Culture and Communication Sector of the Islamic World Educational, Scientific and Cultural Organization (ICESCO), chaired the closing ministerial session of the World Conference on Cultural Policies and Sustainable Development (MONDIACULT 2022), organized by UNESCO with the participation of 115 ministers of culture and 70 international organizations and institutions representing the Member States. The session, held under the theme "Culture for Sustainable Development," was attended by the respective Ministers of Culture of Egypt, the Czech Republic, Cyprus, Luxembourg, Indonesia, Sierra Leone and Namibia, as well as seven international organizations.
The statements of the participating ministers focused on ways to develop cultural policies in the Member States, notably indicators of cultural and creative industries whose annual revenues exceed 2.250 billion dollars, representing 13% of urban employment rates.
The participants stressed that culture is now a major economic locomotive for sustainable tourism, supported by 90% of the population of the world's countries, due to the income it generates through art events, heritage industries and traditional skills.
While chairing the session, Dr. Zinelabidine commended the standing partnership between UNESCO and ICESCO, stating that both organizations are working to improve the indicators of the cultural and creative economy for integrated sustainable development. He also stressed that the creative industries are a vital sector that currently generates 29.5 million direct jobs for young people aged 15 to 29. He added that both organizations are working to render culture a lever of sustainable development for their respective Member States, including the allocation and support of the role of creative women.
Moreover, the head of the Culture and Communication Sector explained that the virtual creative industries have witnessed an increase of more than 34% in terms of demand for video subscriptions, which has led ICESCO to address cultural policy issues from a new perspective that takes into account the transformations caused by the "purple economy." The latter is a fundamental alternative to the transforming economies, on par with the green economy, blue economy, digital economy, and solidarity and social economy. This significance stems from cultural development's contributions to the unique construction of the concept of human wealth, both symbolically and financially, in the countries of the Islamic world.
Likewise, Dr. Zinelabidine stated that ICESCO's recent establishment of the "Holistic Policy Center for the Promotion of Cultural Reality" and the "International Think Tank: Culture for Rethinking the World" attests to its steadfast commitment to addressing current cultural challenges, its interest in the transformations it is witnessing, and its determination to prioritize the aspect of creative development through contemporary qualitative and quantitative studies, research and scientific approaches.