ICESCO Director-General Meets African Union Commission Chairperson in New York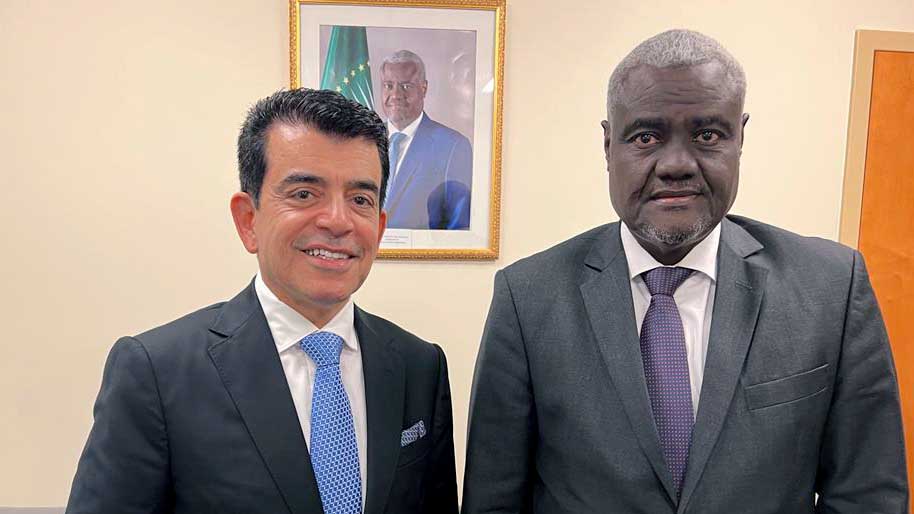 20 September 2022
Dr. Salim M. AlMalik, Director-General of the Islamic World Educational, Scientific and Cultural Organization (ICESCO), and Dr. Moussa Faki Mohamed, Chairperson of the African Union Commission, discussed ways to enhance cooperation between the Organization and the Union in areas of common interest.
During the meeting, held in New York, on Monday (September 19, 2022), on the sidelines of the United Nations Transforming Education Summit, organized in parallel with the 77th Session of the UN General Assembly, Dr. AlMalik reviewed the main axes of ICESCO's vision and strategic orientations, and its major initiatives, programmes and activities to consolidate the values of peace, coexistence and civilizational dialogue, build the capacities of youth and women, encourage Member States to invest in modern technology, and benefit from their opportunities in developing education, science and culture.
The meeting also touched on the areas of common interest and points of convergence between the priorities of ICESCO and the African Union. The two parties stressed their willingness to build a fruitful partnership and agreed to sign a cooperation agreement, which includes the implementation of joint practical programmes and activities, and the participation in international conferences and forums of each party.
The meeting brought together Dr. Mohamed El-Hassan Ould Labat, President of the Cabinet, Advisor for Strategic and Political Relations; and Ambassador Fatima Kyari, Head of the African Union Mission to the United Nations; as well as Dr. Barry Coumbou, Head of ICESCO Education Sector; Ms. Amira Al-Fadil, Head of ICESCO Partnerships and International Cooperation Sector, and Dr. Muhammad Sharif, Advisor at ICESCO Science and Technology Sector.