Discussing Arrangements for ICESCO's Participation in United Nations Transforming Education Summit 2022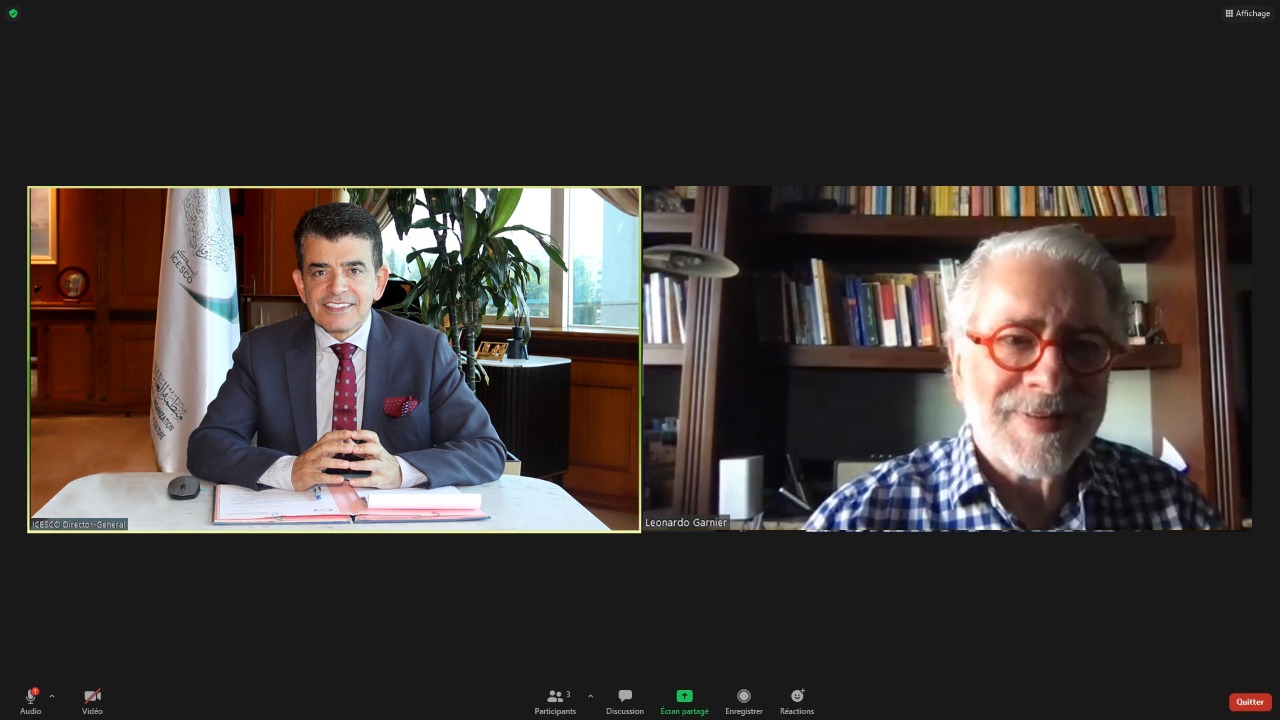 27 July 2022
Dr. Salim M Al-Malik, Director-General (DG) of the Islamic World Educational, Scientific and Cultural Organization (ICESCO), and Mr. Leonardo Garnier, Special Adviser to the United Nations Secretary-General for the Transforming Education Summit, held a meeting to discuss arrangements for ICESCO's participation in this international summit, due to be held next September in New York, during the 77th session of the United Nations General Assembly.
In his speech at the meeting, which took place on Tuesday, 26 July 2022, via videoconference, Dr. Al-Malik affirmed that ICESCO attaches great importance to the Transforming Education Summit, and has an enormous interest in its success and achievement of the desired goals by enhancing the participation of its Member States in this distinguished event.
Dr. AlMalik reviewed ICESCO's outstanding programs and projects aimed to support the educational process in its Member States, guarantee the right to education and address girls' dropouts, praising the multiple partnerships that bind the Organization to several institutions and organizations specialized in the field of education. He also pointed out that ICESCO will hold a parallel event to the Transforming Education Summit to discuss the challenges facing girls' education, and invited Mr. Garnier to take part in it as a key speaker.
For his part, Mr. Leonardo Garnier commended ICESCO's commitment to effective participation in the Summit, and urged the representatives of its Member States to attend, praising the parallel event that ICESCO will organize, which enhances the goals of the Transforming Education Summit in making a global impact and sustaining efforts to achieve the 4th SDG.
In her intervention at the meeting, Dr. Barry Koumbou, Head of ICESCO's Education Sector, stated that the Organization prioritizes education, especially the education of girls and women, through its cooperation with its Member States' National Commissions in implementing joint educational programs and projects. In her turn, Mrs. Amira El-Fadil, Head of ICESCO's Partnerships and International Cooperation Sector, praised the Organization's partnerships in the field of education, which aim to promote education and comprehensive and sustainable development.
The meeting was attended by Dr. Omar Halli, Adviser to ICESCO Director General for the Federation of the Universities of the Islamic World, and Ms. Rime Jirari, Head of Organizations and Bodies Department at ICESCO's Partnerships and International Cooperation Sector.