ICESCO Director-General calls for sustaining efforts to face hate speech and extremism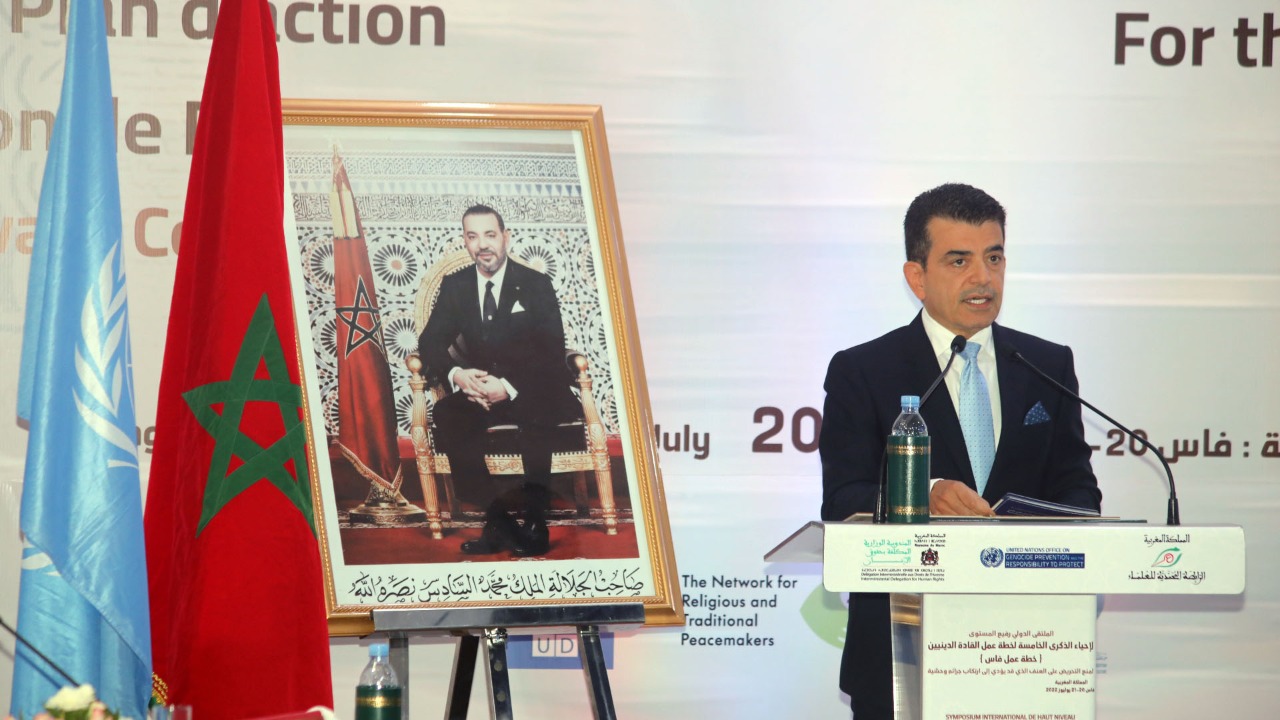 21 July 2022
Dr. Salim Al-Malik, Director-General of the Islamic World Educational, Scientific and Cultural Organization (ICESCO), said that the increased spread of hate speech and extremist ideas worldwide, which incite violence particularly directed against women and girls, ethnic and religious minorities and migrants, requires intensified action to consolidate the values of coexistence and peace, and strengthen partnerships and sincere, pragmatic and equitable humanitarian efforts likely to confront violence and extremism trends, and achieve sustainable development.
This was part of his speech today, Wednesday (20 July 2022) at the opening session of the high-level International Forum held in Fez by the Ministerial Delegation in Charge of Human Rights in the Kingdom of Morocco, in cooperation with the Mohammadia League of Scholars in the Kingdom of Morocco and the United Nations Office for the Prevention of Genocide and the Responsibility to Protect. The Forum, which continues for two days, marks the fifth anniversary of the adoption by the United Nations of the Plan of Action for Religious Leaders and Actors to Prevent Incitement to Violence that Could Lead to Atrocity Crimes, known as the Fez Plan of Action.
ICESCO Director-General praised the importance of the Fez Action Plan, which is characterized by its seriousness and uniqueness since its launch to confront incitement that leads to humanity-threatening crimes, pointing out the importance of the Fez Forum, which witnessed the participation of outstanding officials, heads of international organizations, religious and intellectual leaderships worldwide, to renew the spirit of research and investigation and to explore pathways likely ensure the consolidation of values of coexistence as the ultimate goal of laws and religions, and the aspiration of civilizations.
On this occasion, Dr. AlMalik expressed his gratitude and appreciation to His Majesty King Mohammed VI, King of Morocco, for his patronage and encouragement of the Fez Action Plan and its outputs, commending the adoption of the Plan given the position of religious leaders and their ability to contribute to raising societal awareness.
He then reviewed the most prominent initiatives and programs ICESCO launched and implemented to contribute to building societies capable of combining stability and transformation through confronting extremist trends and blind criminal incitement on the one hand and developing the human rights system on the other, including the organization of the Collective Intelligence Conference in Combating Violent Extremism in cooperation with the Moroccan Observatory on Violent Extremism in the Kingdom of Morocco. Dr. AlMalik reaffirmed ICESCO's commitment to joint cooperation and coordination with various regional and international specialized bodies in combating extremist ideology to set up an advanced model of cooperation based on social intelligence.